There is an old adage… "Two wrongs don't make a right"… but in this case, strangely they do!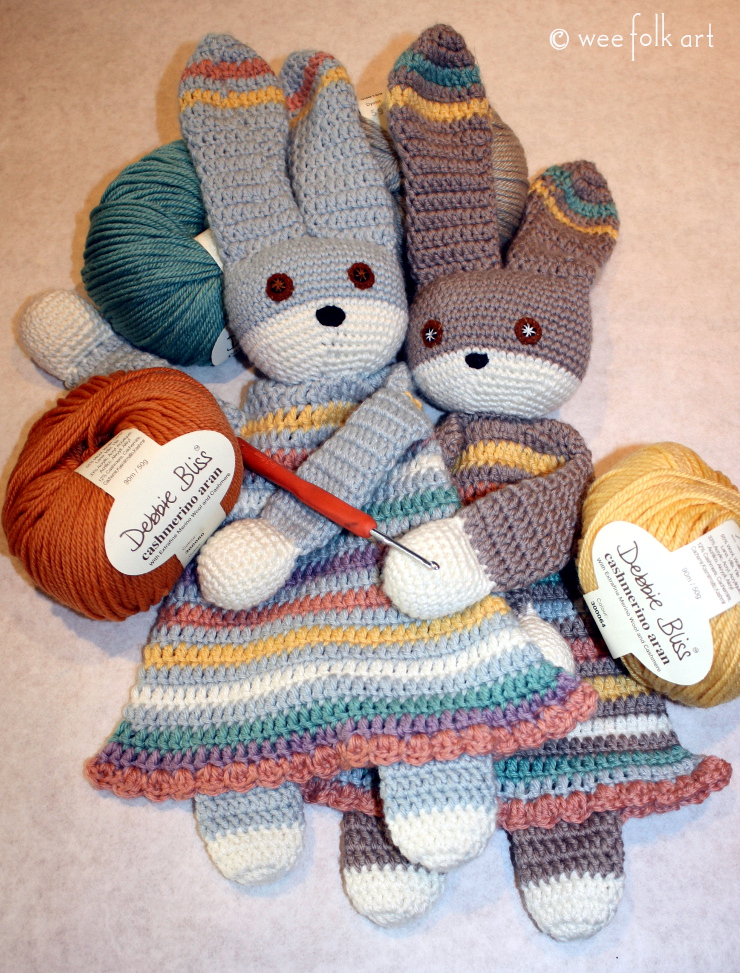 I tend to tell people that I do not crochet. The truth is, I can crochet, it's just that I don't feel nearly as confident crocheting as I do knitting. As I have mentioned many times, Grandma Pearl taught me to knit when I was 5 years old. Knitting is second nature to me. There is nothing on a pattern that throws me for a loop, and I am the knitting guru of all my friends. Knitting problems are brought to me and I fix them. I am a knitter.
I learned to crochet soon after I learned to knit. At least I learned how to make a granny square. Grandma Pearl taught me that, too, but I NEVER learned how to make anything besides a granny square. As a matter of fact, I never learned to attach 2 granny squares, so any afghan I made was just one big granny square! I had its own beauty, but my skills were so limited, when people asked me if I crocheted, I simply said no.
For the most part I was quite content to shun crochet patterns. There were so many knit patterns and so little time, in my mind not being able to crochet was never an impediment. Over the last few years, however, I have found more and more patterns that beg to be crocheted, and I've cautiously moved toward crocheting… wishing Grandma Pearl had taught me as much about crocheting as she did knitting!
Fast forward to the present. I wanted to make something for Pumpkin and Peanut for Easter.
Pumpkin and Peanut with their pretty Mama!
Time was slipping through my fingers, when I happened up a pattern for this Bunny Ragdoll from A la Sascha on Ravelry. I immediately fell in love with it and knew the girls would, too. Alas… they were crocheted BUT for these sweeties, I was willing to step outside my comfort zone and give it a try. I purchased the pattern and some yarn and was good to go.
With YouTube open, I set to crocheting my first bunny. I started with the gray one. Although the pattern itself was relatively easy to follow, as a none too confident crocheter, I was having trouble with the seam on the ears going wonky and traveling around the ear. I redid the ears at least 8 times… no exaggeration… without success. I convinced myself that it looked okay. I continued on, and somehow, and I'm really not sure what I did, the seam on skirt stayed nicely tucked on the side, so you couldn't even see it!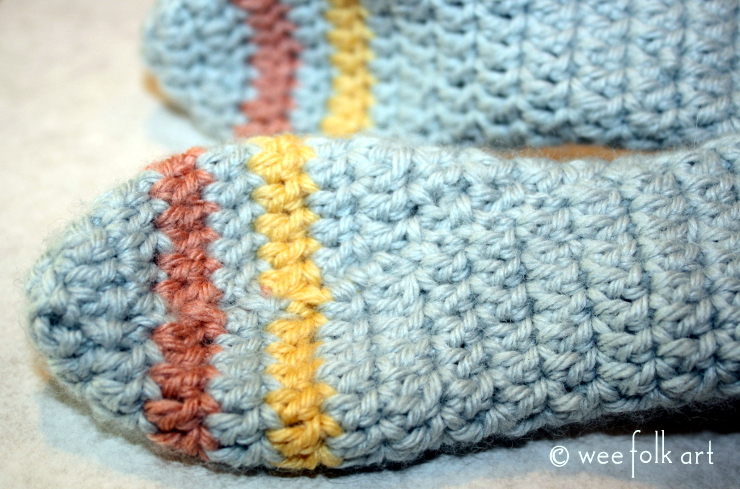 I must admit, the wee bunny turned out totally cute, but as a perfectionist, the seam on the ears nagged at me. Because I was running out of time, I decided they really were THAT bad!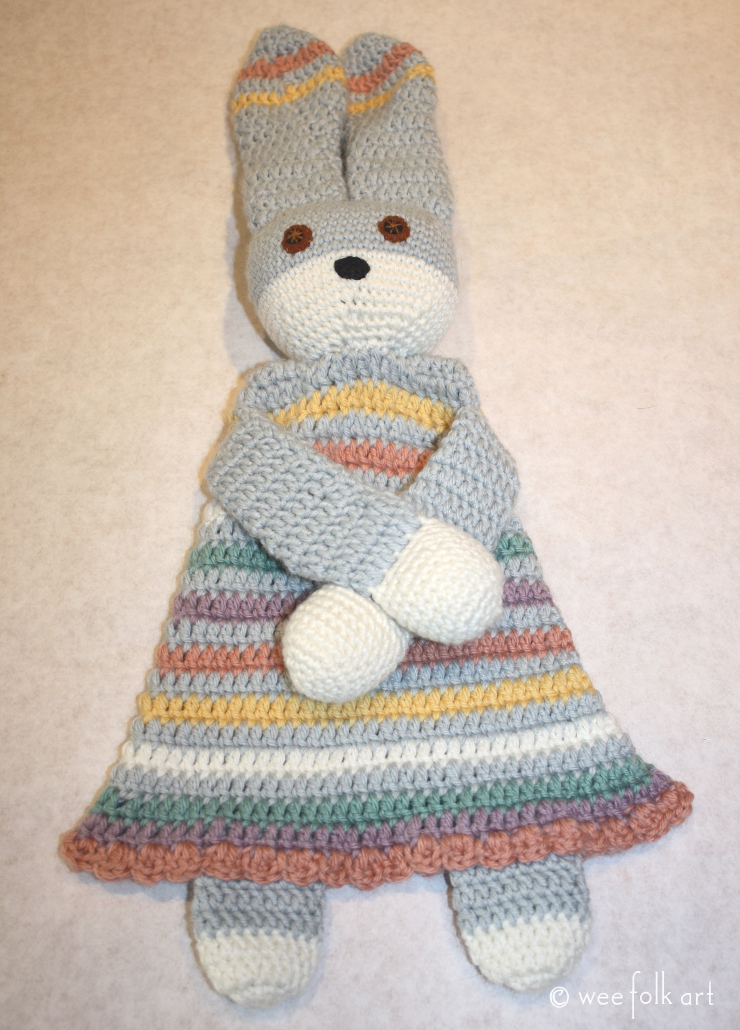 So, I moved on to making the brown bunny. I swear I don't know what I did differently, but the ears came out perfect! The seams stayed on the side. Now I was faced with a dilemma. How could I possibly send one perfect and one flawed bunny to the girls? I couldn't! So, I ordered up more yarn and paid for express delivery so I could get these made and mailed in time for Easter. I continued working on the brown bunny, my new yarn came in, and when I was finishing up the bunny, I realized I had a seam going down the back of the dress!!! Seriously??? How in the world did that happen? Why did I do it right on the gray bunny and wrong on the brown bunny? Oh, Grandma Pearl, how I wish you insisted I learned to crochet better!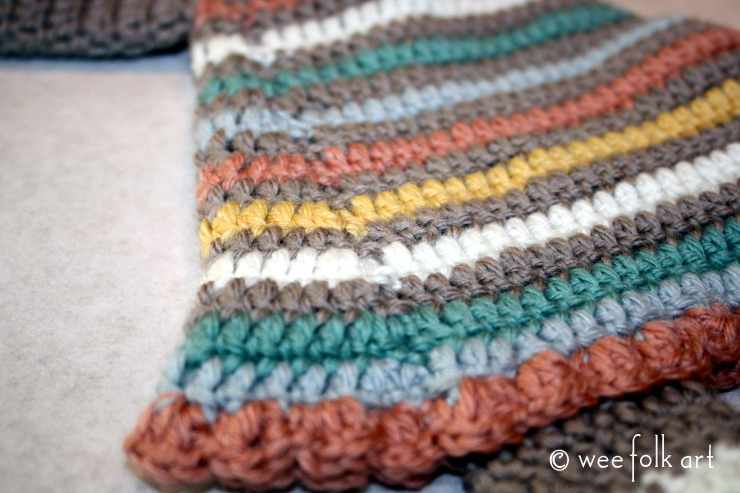 Fortunately, the rest of the bunny was perfect!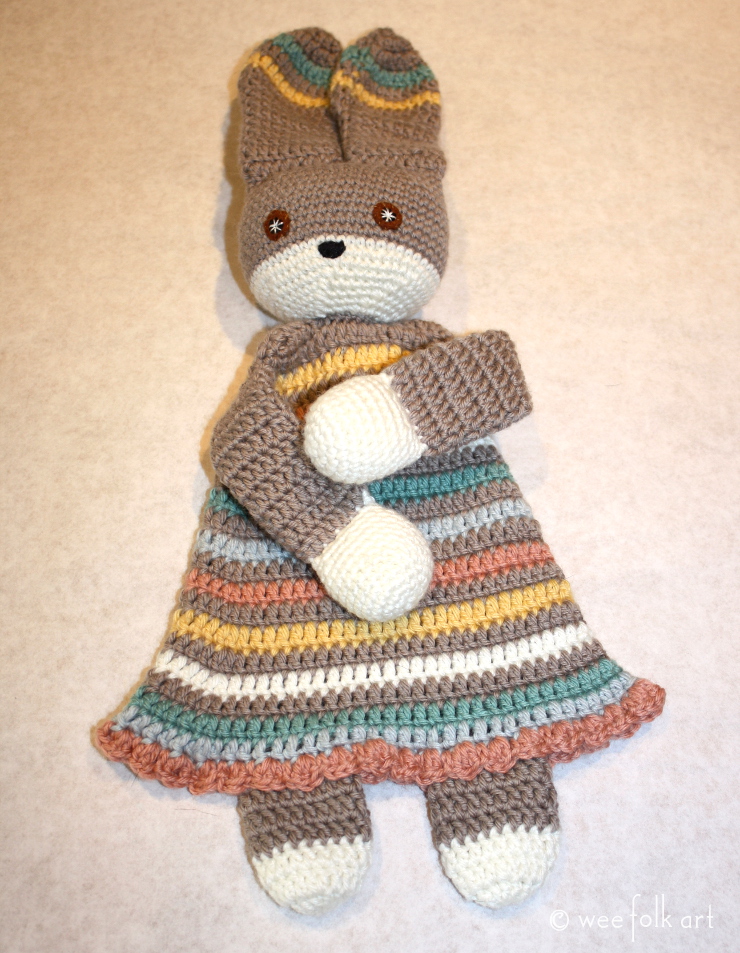 Now I had 2 imperfect bunnies and only enough yarn to make another. When I was deciding what to do, Michelle's family came over for dinner. Pixie immediately scooped up the bunnies, and gave them a big bear hug. As I was explaining my dilemma to Michelle, I could see Pixie scrutinizing the bunnies, looking at the seams, then she said to me, "Gammy, they're perfect and they just want to be loved." Out of the mouth of babes. When Peanut and Pumpkin hug their bunnies, they won't be looking at the wonky seams. They will love their softness and their serene faces. They will carry them around by a dangling arm or foot, and they will give the girls comfort when they are sad. To the girls, they will be perfect and the love they will have for them will look past any flaws that I see!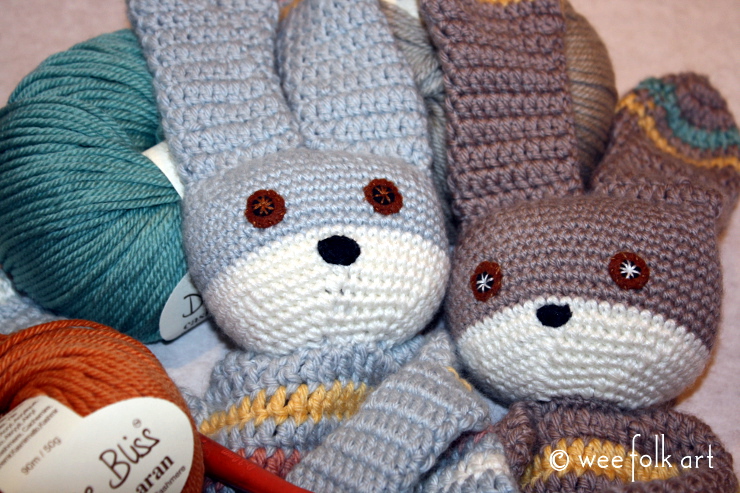 So, yesterday they were packaged up and sent on their journey to South Carolina. They will be there in plenty of time for Easter, and I am sure the girls will give no mind to the imperfections. I must admit, if one of them had turned out perfect and the other was flawed, I would have made another, making sure there were no mistakes. As it turns out, in this case, two wrongs did make a right!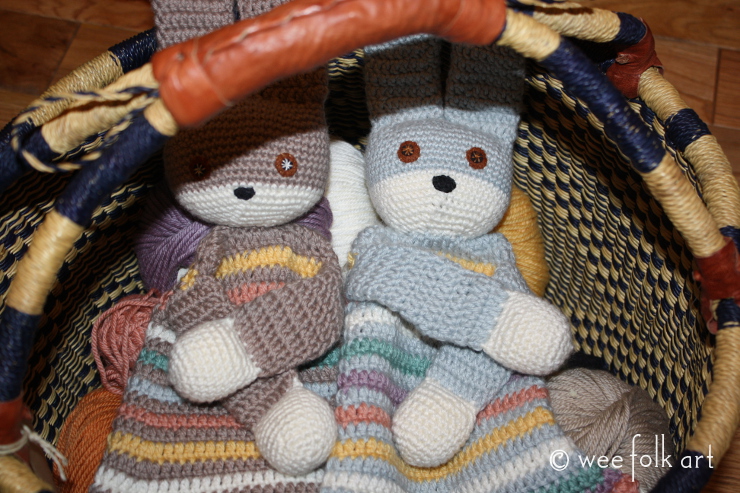 You might wonder what I plan to do with the extra yarn. Well, I think Pixie earned a new lovey, don't you?
---
Materials Used for the Crocheted Bunnies
Pattern: Ragdoll Bunny by A La Sascha can be found HERE
Yarn: Debbie Bliss Cashmerino Aran Yarn can be found HERE
Bodies
Debbie Bliss – Cashmerino Aran – 078 Taupe (Brown Bunny)
Debbie Bliss – Cashmerino Aran – 202 Silver (Light Blue) (Gray Bunny)
Debbie Bliss – Cashmerino Aran – 025 White
Stripes
Debbie Bliss – Cashmerino Aran – 082 Duck Egg
Debbie Bliss – Cashmerino Aran – 072 Peach
Debbie Bliss – Cashmerino Aran – 064 Cowslip
Debbie Bliss – Cashmerino Aran – 046 Heather
To make the 2 bunnies I purchased 2 skeins of the body colors and 1 skein of the other others.