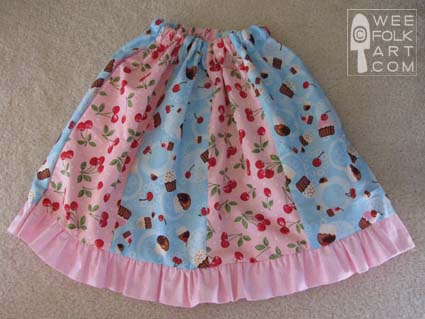 Here is the pattern for a 8 paneled "twirly" skirt that takes the basic elastic gathered skirt and adds a little "flirt" to it! There are 8 panels that flair out at the bottom. You may choose to use 1, 2, 4 or even 8 different fabrics. For that reason we cannot give specific fabric requirements. Also, because you are using a mathematical formula for calculating the correct size, you can make the skirt a size 6 month or a women's 3X! (A note about making the skirt in women's sizes is included after the directions.) Use the instructions below to calculate the correct size and pick your fabrics. Determine fabric needs based on your selections.
Also, there are a couple of options. You can make the skirt with or without a bottom ruffle. You can also decide if you'd like to include hidden side pockets!
NOTE: Read all instructions before beginning your skirt.
Calculating panel sizes:
Before you begin making your skirt you will need to do some math to figure out how wide to cut your 8 panels. (BTW… The measurements we used for Fairy's skirt are in parenthesis and we will be working with two contrasting fabrics. Since we need eight panels… we are cutting 4 panels of each color.)
Start with your hip measurement (20in) and double it (40in).
Divide this number by 8 (5in). If your number doesn't come out even like ours did, round up to the nearest 1/2 inch.
Add 1 inch (6in) for seam allowances.
Next add 2 inches (8in) for "twirliness"… (we will taper the panels later).
This final number will be the width of each panel.
To figure out the length, measure from your waist to the length you would like your finished skirt to be (18in). Add 3 inches. This will allow for seam allowance and waist band. NOTE: If you plan to add the optional ruffle… only add 1 inch (19in). We will gain a couple inches with our ruffle.
Pieces needed: (cutting instructions are given below)
8 skirt panels
3/4″ wide elastic 1″ smaller than your waist measurement.
Optional ruffle
Optional pockets
Cutting Instructions
Optional ruffle… you need to cut out two strips that are double your waist measurement (40in) by 6in high. If your measurement is longer than one piece of fabric you will have to sew two strips together to get the right length. Fold the strips in half length wise, right sides out and iron. I like to serge the open edge but that is optional.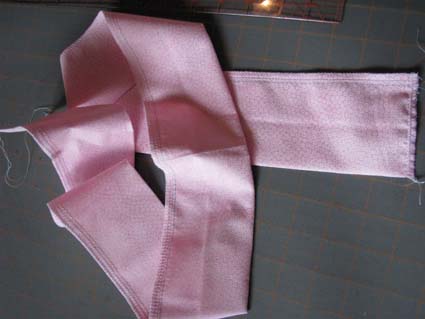 Optional pockets… click here to download our basic hidden in seam pocket pattern. Cut out 4 (two facing towards the right, two facing towards the left).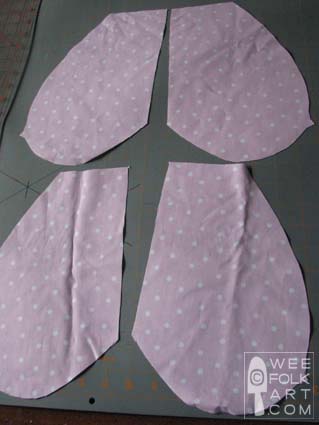 Cut out eight skirt panels as calculated above. We choose to work with two fabrics and cut out 4 of each (8in X 19in).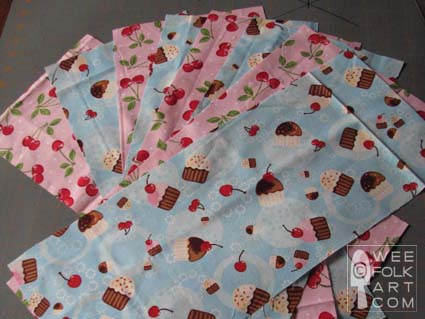 To taper the skirt sections: Fold the panels in half lengthwise and line up the open side on your cutting board. Place your straight edge on the bottom open corner and one inch in on the top open corner. Cut with a rotary blade. When you open up the panel the sides will now be tapered in at the top.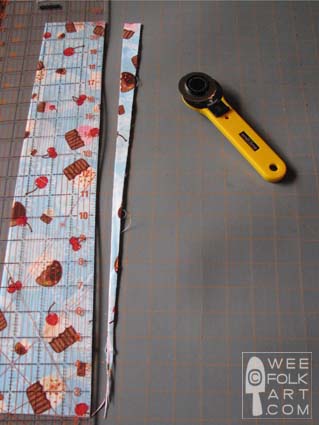 Sew together four panels (right sides together). We used a ABAB pattern. Sew together the 4 remaining panels in the same pattern. You will now have two panels. This is when I serge my edges (optional). Iron your seams.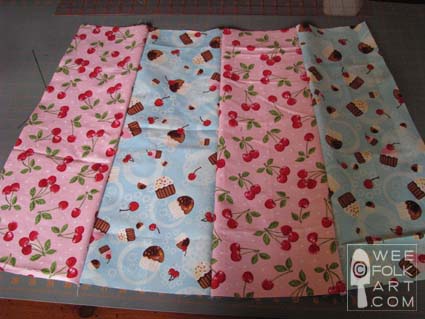 Line up your pockets 4 inches down from the top edge, right sides together. Sew in place. Repeat on both sides, both panels.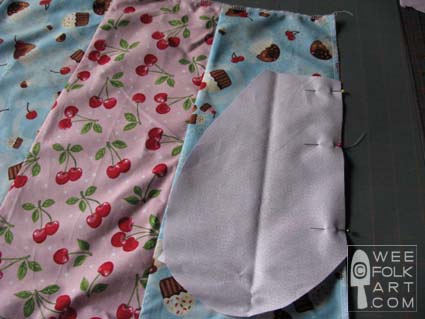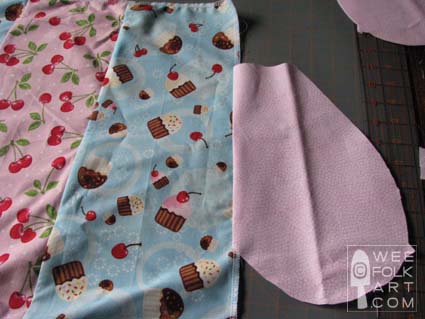 If you haven't already, prepare your ruffles (for more tips on how to make a ruffle click here). Line up your ruffle on the bottom edge of the panel rough edges together. Make sure your ruffle is spread out evenly. Pin in place and sew. Repeat for the second panel.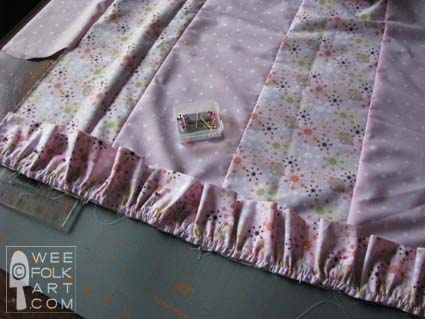 Place your front and back panels right sides together and pin. Sew both side seams going around your pockets. Make sure your ruffle seams are lined up nicely.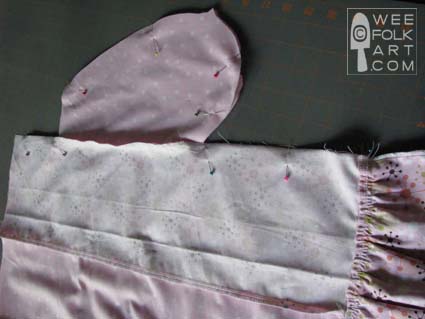 Fold down the waist band 2in and sew near cut edge leaving a 2in opening to insert the elastic. I like to leave the opening near a side seam. Use a safety pine to guide your elastic through the waist band. Overlap the elastic about an inch and sew together (be careful not to twist the elastic). Sew the waist band opening closed.
Flip your skirt right side out and wallah! You now have a ruffly skirt perfect for a princess.
NOTE for larger sizes…
To make longer skirts nice and full (twirly) you will want to add a few more inches to the 8 panel widths. For instance in the example one made for Fairy I added 2 extra inches to the panel width… for myself I would probably add 4 inches.
Then when you cut the taper, after you have folded the panels in half lengthwise and lined up the open side on your cutting board, you will place your straight edge on the bottom open corner like the example and one half inch in for every inch you added to the width. So if you added 4 inches to the width you would move the top point in a total of 2 inches and then make your cut.
Also, if you have added width to your panels you will want to cut your ruffle strips 2 and 1/2 times as wide as your waist measurement.