Ruffles are a fun and easy way to dress up even the most basic pattern. Some of you may have a ruffle foot that you can use on your sewing machine… check out your manual. If you want to do it by hand… which I like in small amounts… here is how we do it.
First determine the length of the edge you wish to attach the ruffle. You will want to cut your ruffle about double the finished length.
Next determine how wide you want your ruffle. Double this number and add 1 inch for seam allowance.
Cut out your ruffle strips. For longer ruffles you may need to sew several strips together.
Fold your ruffle in half length-wise, right sides out. Iron flat. You can serge the open edge if you would like.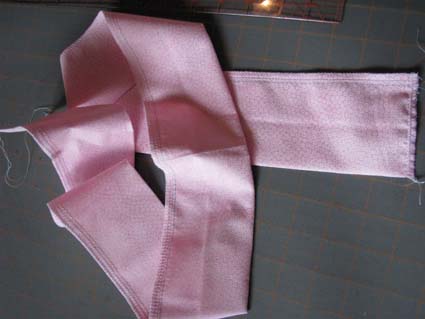 Next run a very loose (I set my machine to widest stitch setting) running stitch about 1/2″ from the open edge. For a wide ruffle you may want to add a second running stitch 1/8 of an inch away from the first. Be sure both are sewn with the same side up. (Don't forget to re-set your stitch width before attaching your ruffle to your item!)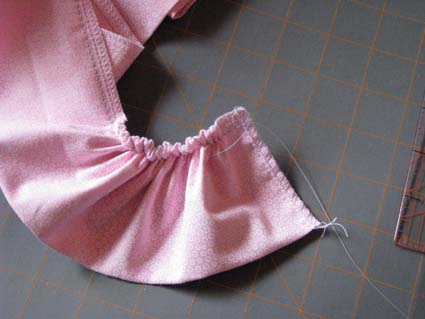 Next, hold on to the bobbin thread/s and gently pull. Your fabric should start to gather. Continue gently pulling. (If you thread breaks you will need to add another gathering stitch.) Spread out the gathers evenly until the ruffle matches the length of the edge you will be attaching it to.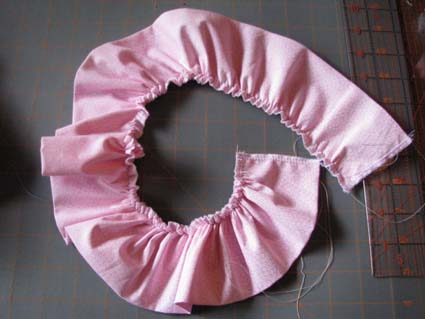 Carefully pin the ruffle in place (upside down against the right side). Once it is sew in place you can remove the loose running stitches if it is visible on the right side of your garment.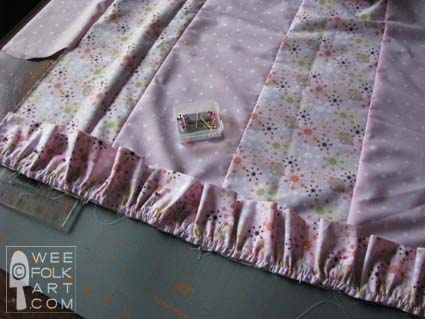 Have fun adding ruffles!