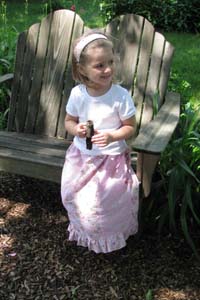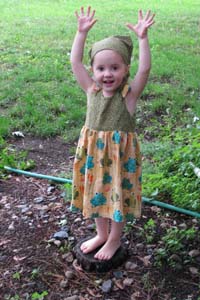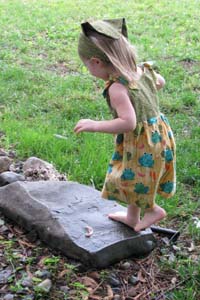 I've been busy, busy this week with lots of time spent at the sewing machine trying to finish up all of my summer projects before our summer trips. One that I'm totally in love with is this Eight Panel Princess Skirt made especially for Fairy. I don't think she knows how good she has it… anything she dreams up and wallah… Gammy or Mommy set off to make it for her. Anyway, she picked out the fabric, it has her mandatory pockets (this one has hidden side seam pockets) lots of twirly goodness and ruffles. I will get the pattern up sometime this week.
I have also been playing with hair accessories. Fairy is wearing a stretchy headband and Pixie is sporting a stretchy bandanna… both of which I will be sharing shortly.
And last but not least… if I find the time (I will have to make another to take photos… twist my arm 😉 )… I will try and get Pixie's Tie Shoulder Dress Directions written up as well.