As the temperatures are just starting to break a bit, and autumn is growing ever closer I find myself being drawn back to woolly knitting projects. Although there are plenty of hot, sunny days left in the season, it won't be long now before snuggling up inside to avoid the cold, damp weather will be a must. On those days, one of my favorite activities is to settle in by the fire with a knitting project and enjoy a movie or TV series marathon. What better way to delve into the fantasy stories, than following along with Movie Inspired Knitting Patterns or in other words… enjoy some serious Geek Knitting Patterns.
Fantasy Story and Movie Inspired Knitting Patterns AKA Geek Knitting
Today, I have chosen movie inspired knitting patterns that go along with several of our favorite stories, movies, or TV shows. This collection features fantasy and sci-fi story knitting patterns, and yes, shows off our "geek" side here at Wee Folk Art. If you know of a great story, TV, or movie inspired knitting pattern that I have missed that would go along with this collection, please let me know in the comments. Some stories/movies, such as Harry Potter, have many corresponding knitting patterns but I have only chosen one per story to highlight here. Again, if you have a favorite that isn't listed, let us know in the comments.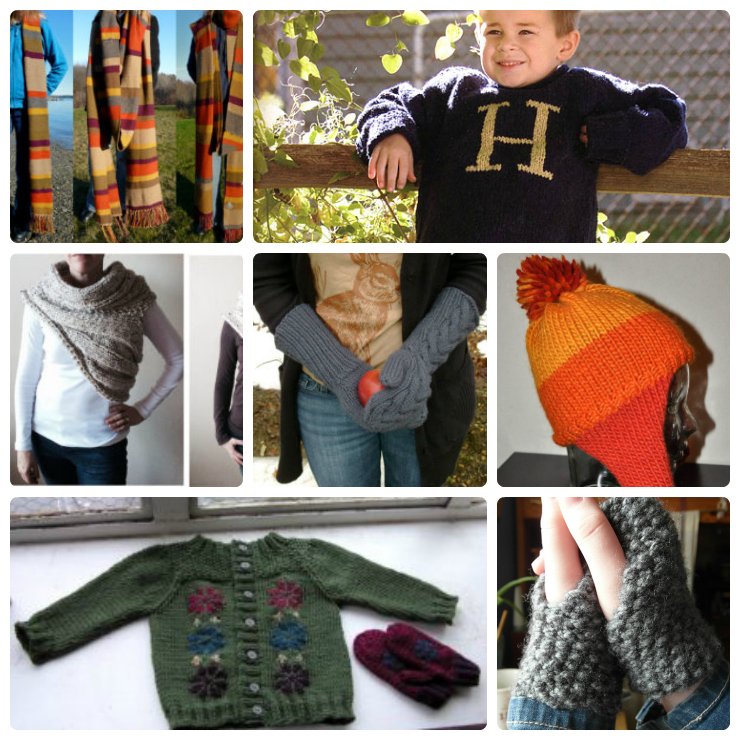 ---
Harry Potter Knitting :: The Weasley Sweater Knitting Pattern
By Alison Hansel available at Canadian Living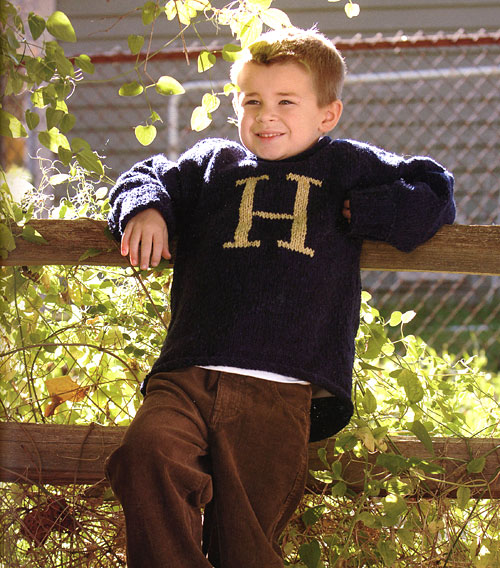 Any knitter who has read or seen Harry Potter will have been charmed by Mrs. Weasley's habit of making all of her children, and Harry too, yearly Christmas sweaters. They are woolly, lumpy, and feature the owner's initial in the middle. Although her children laugh at them, the Weasley kids of course love their mom-made sweaters.
---
Doctor Who Knitting :: The Fourth Doctor's Scarf Knitting Pattern
Available at DoctorWhoScarf.com
The Doctor Who scarf is so well known by knitters that there is actually a whole website dedicated to Tom Baker's iconic Doctor Who scarf. Stop by the site to learn about the history of the scarf, get knitting tips, and find yarn suggestions and color guides. This super long scarf would be a fun one to work on while enjoying a serious Doctor Who series binge. Enjoy foot after foot of easy knitting fun.
---
Twilight Movie Knitting :: Bella's Mittens Knitting Pattern
By Marielle Henault available at SubliminalRabbit
In the cold, wet weather of Forks, Washington, a chunky pair of warm mittens is a must, especially when one hangs out with icy cold vampires. This movie inspired knitting pattern is based on Bella's mittens that were seen in the first Twilight movie. I must admit of all the patterns I'm sharing today, this is the only project that I have already completed (you can see mine here). Actually I made them a couple of years ago and they are probably the mittens I wear the most in the winter.
---
Firefly Knitting :: Jayne Cobb Hat Knitting Pattern
Available at QMx Insider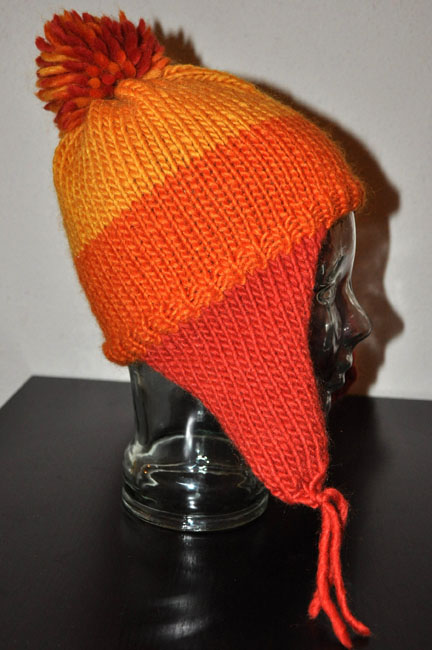 Firefly fans (and those who have hung out on our blog long enough and remember our silly "The Bird They Call Jayne" posts) will immediately recognize this fetching hat pattern as the one tough guy, Jayne Cobb received from his mother. The ear flaps and pom-pom top make it a fun hat whether or not you are a Brown Coat fan.
---
Hunger Games Knitting :: Katniss Cowl Knitting Pattern
By Dahlia in Bloom available on Ravelry
This funky, off the shoulder cowl knitting pattern is modeled after District Nine Katniss's cowl as seen in the movie Catching Fire. It is perfect for any huntress who needs warmth, but also the freedom to move. Designed by Dahlia in Bloom, this pattern is available on Ravelry and comes with tips and helpful notes. She also has several other variations in her Ravelry shop.
---
Hobbit Knitting :: Bofur's Fingerless Gloves Knitting Patterns
by Anya Lowery available at To Live a Life
No fantasy book and movie inspired knitting patterns collection would be complete without including an homage to Tolkein. Enjoy this quick fingerless gloves pattern, modeled after Bofur's mittens in The Hobbit: An Unexpected Journey.
---
Narnia Knitting :: Lucy's Sweater Knitting Pattern
by Jennifer Little available at Looking Glass Knits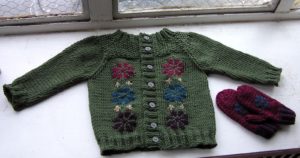 Narnia can be a cold place, especially when the White Witch is in control. Lucy's sweet cardigan design is offered at Looking Glass Knits sized for babies. This adorable sweater is perfect for exploring the world beyond the wardrobe.