Mixed Media Inspiration :: Freckles and Flowers
Today's mixed media inspiration comes from Freckles and Flowers. In her post, Paula shares several mixed media images to advertise an Altered Books Mixed Media workshop she was teaching. Be sure to stop by Freckles and Flowers for more mixed media inspiration.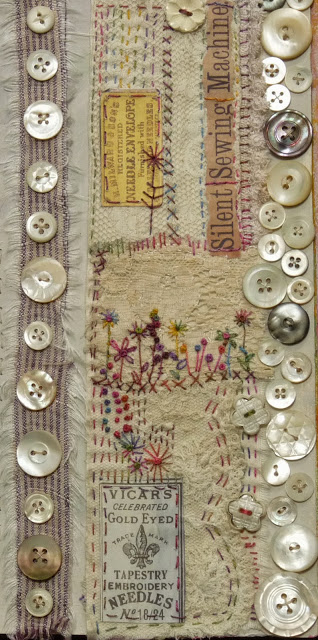 A Bit of Imperfection :: Thoughts from Kimara
A lot of my artistic endeavors are very controlled. I create patterns and stitch them up. Have you ever seen my blanket stitching? Seriously, all my stitches are exactly the same size! Of course, I tell myself it is skill that manages this but to be honest, it's my obsessive/compulsiveness I inherited from my father who was an engineer. At times I feel that I am a slave to perfection!
Trust me when I tell you I am NOT bragging. Frankly, I would list this as one of my personality flaws. I tell myself all the time I need to loosen up… let my hair down… make messy art. But something deep inside me balks. And although I don't consciously stress, don't you think there's a spring wound a bit too tight? What ELSE could I do if things weren't chasing total symmetry and perfection?
Given how I create, I think it's very telling that I find myself drawn to pieces of art that are anything but perfect like this mixed media piece. I'm sure thought was given to design… there are buttons in a row after all, but this piece SCREAMS freedom. No worries about symmetry or perfection, yet there is a balance and tranquility among the chaos and imperfections.
I know I will continue to design as I do and make my perfect blanket stitches, but I am going to challenge myself to let go… to find a balance and beauty that disregards perfection.
I wonder if I can!