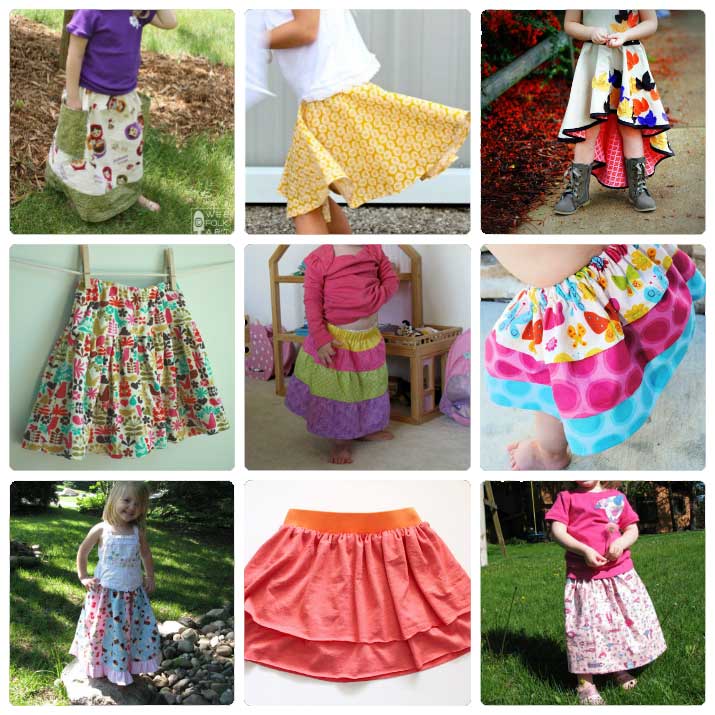 Sources for all the skirts can be found HERE.
When Michelle was a little girl, I could not get her to wear a dress or skirt. (Remember that family?) I'm not sure Michelle and I ever had an actual argument, but the closest we ever came is when I insisted she wore a dress to church on Easter Sunday when she was 10. On the way to receive communion, I could see she had put jeans on under her dress and as she walked along the rolled up pants legs fell down to her ankles. Even in high school, going to proms and homecomings, she would wear beautiful dresses, but under all of them she wore a pair of Umbros. I was shocked when she didn't don a pair under her wedding gown. Ah, my girly girl 😉
Then comes Pixie and Fairy, her little girls. They, in turn, wanted no part of pants and shorts and refused to wear anything but skirts and dresses. And, can you believe it, they love pink! Okay… must admit I find the whole thing quite humorous. There seems to be some sort of poetic justice in this.
Anyway, very early on we started making skirts for the girls, because not only did they love skirts, they wanted them to be long, flowing and twirly. Skirts are quite easy to make, even for novice sewers, so we kept them amply supplied.
Today we are sharing a lovely selection of FREE skirt patterns, some from our site and some from around the web. Also, some of the patterns have directions for sizing them up for adults. (In case you are wondering… today, Michelle will occasionally wear a skirt, although pants are still her clothing of choice.)
If you have a wee girl in your life that loves skirts, I'm sure you'll find something you can fall in love with in this collection. There's even one with attached shorts which I'm sure Michelle would have approved of 😉
---
Gathered Waist with Pocket and Border
Here is a basic elastic gathered waist with a few extras. A border is added to the bottom with a matching pocket added to the outside of the dress.
Wee Folk Art pattern can be found HERE.
---
Circle Skirt
Easy Peasy circle skirt with exposed elastic waist. Super fast to make.
Dana Made It pattern can be found HERE.
---
Fishtail Circle Skirt
Although this is not a complete pattern, and it is meant to be the skirt on a dress, there is enough information to show you how to achieve the fishtail. It is a basically a circle skirt with the hole for the waist off-centered.
The Sewing Rabbit pattern can be found HERE.
---
Skirt with Built-in Shorts
A wonderful little skirt with shorts built right in
The Long Thread pattern can be found HERE.
---
Four Tiered Peasant Skirt
Oh, the color combinations possible with 4 tiers. This is a basic elastic waist skirt with the addition of gathered panels.
Wee Folk Art pattern can be found HERE.
---
Three Layered Baby Girl Skirt
Like the Peasant Skirt above, this is a tiered skirt with a gathered waist. A major difference is the individual tiers are not gathered.
Crazy Little Projects pattern can be found HERE.
---
Eight Panel Princess Skirt Pattern
The grin on her face tells it all. Although this skirt was made for her older sister, Pixie decided Fairy need to share it with her. Who can blame her?
Wee Folk Art Pattern can be found HERE.
---
Knit Fabric Layered Skirt
Visible elastic gathered layered skirt. I'm sharing this one because it is made from a jersey knit and requires no hemming. Plus, I'm think this would be an excellent way to repurpose some of mom or dad's old t-shirts~
Ruffles and Stuff Pattern can be found HERE.
---
Basic Elastic Waist Skirt
You just doesn't get any easier than this! BTW… the fabric Pixie picked out inspired an applique design, which was then added to a t-shirt. You can find the Crazy Little Bird Applique HERE and HERE.
Wee Folk Art Pattern can be found HERE.
---
Flexible Waist Skirt Pattern
This skirt has a yoga waistband that not only makes it super comfortable to wear, it also means it can grow with the child and be worn for quite some time.
Delia Creates Pattern can be found HERE.
---
Layered Circle Skirt
What's not to love about this skirt? It twirls, it swirls, it bounces and flounces! Plus, it's made from recycled material. Fun!
Karlene's Workshop Pattern can be found HERE.
---
Twirly Skirt Tutorial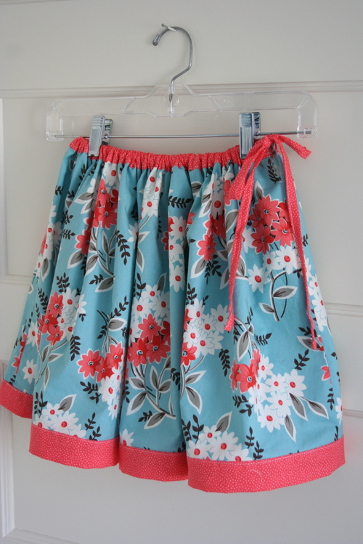 A basic gathered waist skirt with a couple sweet embellishments.
House on Hill Road Pattern can be found HERE.
---
nn