I'm totally in love with my latest endeavor. All the projects I post please me (alas, those that don't will never receive their 5 minutes of fame on our blog!), but every now and then I make something that I could never part with. My new Falling Leaves Wall Hanging has just bumped out an older piece of artwork for a prime location on my wall!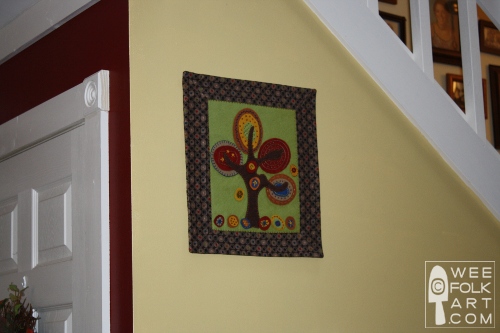 I think I may have mentioned in passing that we are partnering with Prairie Point Junction on a totally awesome Holiday Giveaway. (BTW… PPJ's Julie is so totally patient and delightful to work with!) I can't wait to share… but that will have to wait a couple more weeks. ANYWAY… that project is going to have mitered corners. In preparation for that project I knew I needed to do a tutorial on the "mitered corner" and this Wall Hanging was born out of that simple idea. My first thought was to make a placemat but that would have required a full set to be useful. I've been asked several times now "What do you do with all those Applique blocks?" and decided now would be a great time to demonstrate one way you can display your appliques.

I started this project by hitting the fabric stash and picking out this very mod print that I've had for awhile with the intent of using it for a fall project. Then, onto the felt cupboard and grabbing coordinating colors. Next… what to stitch? I recalled some doodle of Michelle's from the not so distance past that had a tree on it. (FYI… when I doodle it's with paper and pencil, when Michelle doodles, it's with a computer!) I dug into my stacks (have I mentioned my stacks before?) and finally happened on the image I was thinking about. Sorry the image is so light, but it's good enough for you to see the similarities between Michelle's doodle and my interpretation. Funky, but totally fun!
I had no particular plan as I started. I just wanted color! I decided what stitches to use as I went along. I'd pin it on the wall, step back, and decided how to proceed. The leaves on the ground were an after thought. The leaves actually falling, were an after after-though, and the leaf on the far right was added AFTER I put the border on because I didn't do a very good job of centering the tree and needed something on that side to balance it out!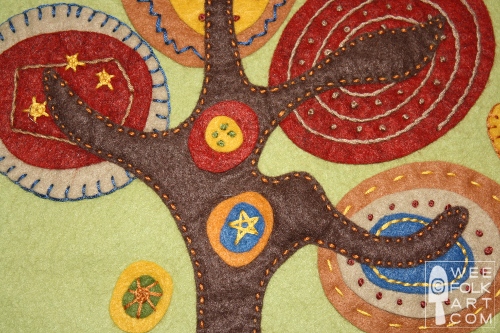 And that is what led to my new "Favoritest Piece." I have included the shapes and stitches I used, but obviously, this is an exercise in the pure joy of creative expression. Get funky! Try new stitches, put colors together you normally wouldn't, and stand back and drink in the absolutely intoxicating sensation of artistic mayhem! Oh, BTW… I do teach you HOW to do a MITERED CORNER, which just goes to show you, like Michelle so thoughtfully pointed out the other day, even though I'm prone to meander, eventually I return to the topic at hand! If you'd like to make your very own Falling Leaves Wall Hanging click HERE or go to our FREE Patterns. Enjoy! (I know I did!)