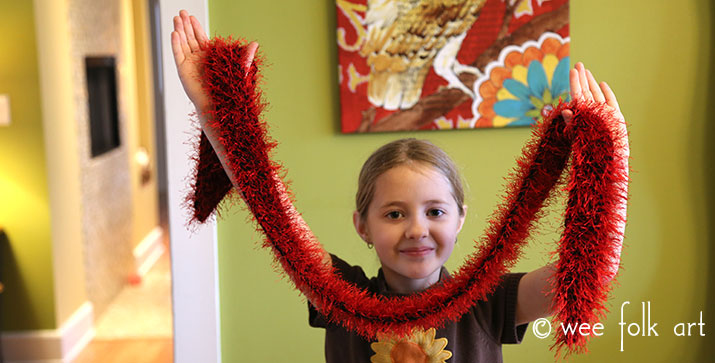 A few years ago I wrote a post called The Song of a Scarf in which I showed how I spun, dyed, and knit a scarf from beginning to end. It included a pattern for a simple bias scarf. That Christmas, I made a variation of that scarf as Christmas gifts for my girls' dance teachers. Rather than using natural, homespun wool, I used super fun fur yarns held together with a basic worsted weight yarn. They turned out to be fun, silly, feather boa styled scarves.
Last week, our dance studio owner came to me asking for help. One of the young dancers was performing a solo in which she uses a feather boa as a prop but the teacher didn't want to use an actual feather boa since they shed feathers like crazy and are hard to quickly untie in the middle of a performance. She brought out one of the scarves that I had made for one of the other teachers (not realizing that I had been the one to make it in the first place). She told me that they had been using the fuzzy scarf for practice and it was perfect… could I make something like it but in red? LOL. Umm… of course. I can make one exactly like it. I explained that it was my pattern in the first place.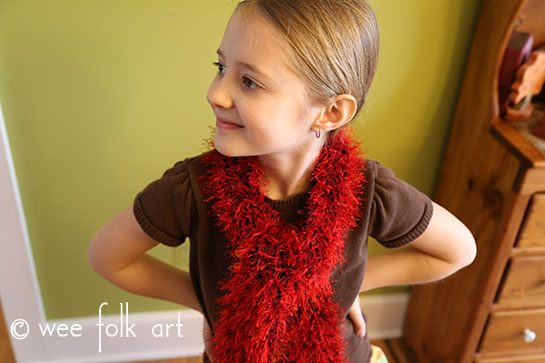 I did realize though that I never shared my first set of Fuzzy Boa Scarves so here is the updated Bias Scarf Pattern with a few minor modifications.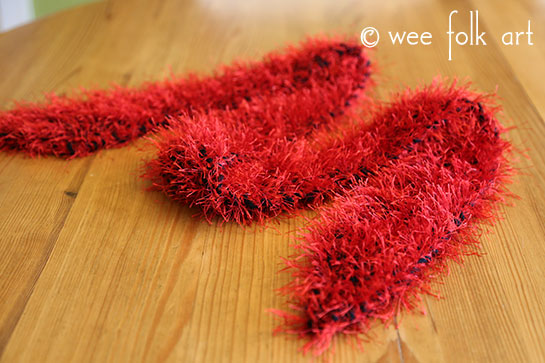 Fuzzy Boa Scarf
Materials:
Directions:
Gauge is not important.
Cast on 12 sts holding the two yarns together
Row 1: KFB, K9, K2T
Row 2: K
Repeat rows 1 & 2 until you reach your desired length (basically knit until you run out of the fur yarn – about 52″). Bind off on a knit row.
Click here to add this pattern to your Ravelry Queue.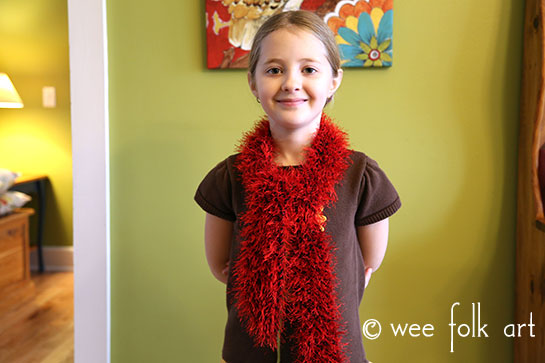 If you are looking for an easy and fast Christmas gift, these fun, fuzzy, boa, scarves are a great way to go. They knit up quickly in one or two sittings. The yarn is available in a variety of fun colors. Make a bunch for gifts or make one for yourself to add a bit of flair to your holiday outfit. Enjoy!
P.S. Don't tell the dance studio that I also know how to sew. I'm scared to think about what might be requested of me if they find out that I own a sewing machine. 😉
FYI – We are an Amazon Affiliate.