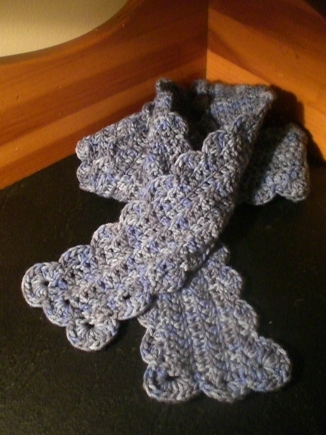 It's not a shocker that both Michelle and I would embrace the same craft at the same time. We seem to travel in pairs, so we're exposed to the same things, at the same time. I happened to be born with a pair of knitting needles in my hand, which I'm sure made for an interesting delivery! But Grandma Pearl, my crafting muse, was a knitter, so it was a skill I learned early, and I adopted Grandma Pearl's attitude that crocheting was a Johnny Come Lately craft that only people who couldn't handle two needles, were drawn to! (BTW…Grandma was a closet crocheter and could turn out a toilet roll cover with the best of them. She just viewed the craft as plebeian and chose not to share it with me!)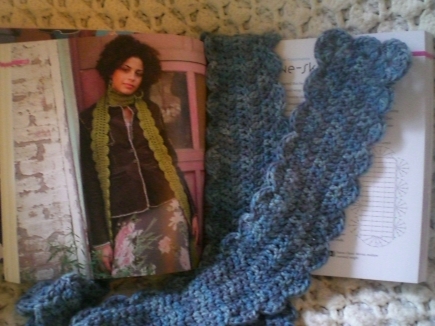 Lately, I've been seeing more and more things that are crocheted that I'd like to make, so sorry Grandma Pearl, I've taken up the hook! I picked up Debbie Stoller's book,
Stitch 'N Bitch Crochet: The Happy Hooker
, and what a hoot to read! She gives great directions and makes you smile at the same time. Sign of a good teacher! Anyway, I started out with a simple One-Skein Scarf. I made it with a super soft Comfort yarn by Berroco. Its fiber content is 50% super fine nylon and 50% super fine acrylic in variegated blue which will look great with jeans! I wound up using a smaller needle than they called for and made a couple extra rows, but I'm loving it! It goes together super quick, and I've now found another craft to throw into the ol' Christmas gift basket!

Be safe and have a great holiday weekend all!