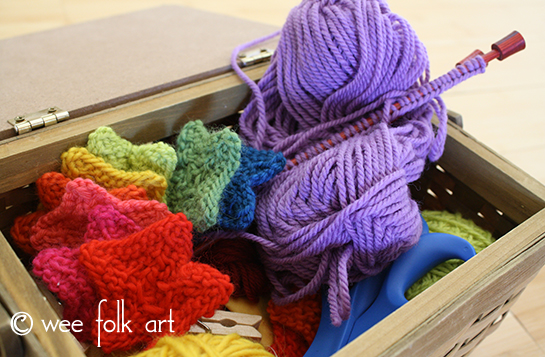 I know I should be packing up all the Christmas stuff and knitting more practical things right now (the kids could all use more mittens) but I wanted to make something new for my sweet, little yarn tree this year and didn't get a chance to during the holiday season. Actually, I didn't MAKE anything this holiday season. No gifts, no ornaments, no winter woolies. I think I was a little overwhelmed with the shortened season (there weren't enough weekends between Thanksgiving and Christmas this year) and we had family staying with us for an extended vacation at Thanksgiving. That combined with all the kids activities and I found that I just wasn't in a crafty mood. So many evenings I would hit the sofa and couldn't even be tempted by my knitting, let alone anything messier. But now, as some of the dust has settled, and the snow has bound us in the house, I've managed to finish off one of those big knitting projects that had been mocking me for weeks and found myself wanting something much, much smaller on my needles. I'm adoring this project. So fun, so cute, so easily portable in a tiny little basket (the basket alone makes me smile), and they give immediate gratification. No waiting, no stress. This feels just right at the moment. So my little yarn tree is still out and I'm adding these fun stars to it. Next year I may need a bigger yarn tree.
Visit JellyWares to get the Knitted Star tutorial at http://jellywares.blogspot.com/2011/10/knitted-star-tutorial.html.
Here is a list of links, in case you've missed some of the past projects on my Yarn Tree, that we've completed over the last couple years…
the Yarn Ball Ornaments
the German Paper Stars
the I-cord Rainbow Garland
the Colorful Crocheted Christmas Balls
and the Felt Wool and Ribbon Ornaments.
Enjoy a little, quiet post-season crafting… or start your list for next year. There's only 346 days until next Christmas. 😉