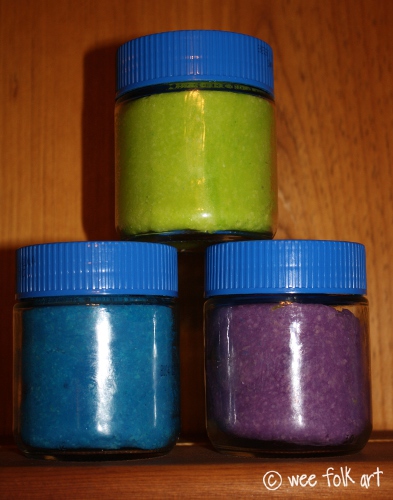 Although Fairy's problems with gluten are not as sever as others, it has made me more sensitive to the plight of those around us that have serious allergic reactions to gluten. Because of that, I dusted off my old 3" x 5" cards to see if I had a recipe for a gluten free playdough, and sure enough, I did! In all my years of teaching preschool I never had a child with a gluten allergy. It really makes me wonder whether it is more prevalent today or if we have just gotten better at diagnosing the problem. Whichever the case, I did want to include a gluten free playdough recipe on the site.
I played with 3 different flour substitutes, and I was happiest with the rice and almond flour playdoughs. Of course, if your child has tree nut allergies you will not want to use the almond flour. My final appraisal of the playdough… it makes up nice and feels wonderful working with it. I do believe it dries out a little faster than the wheat flour doughs, so make sure you cover them well when storing. Since I don't know what the shelf life of them are, I plan to store mine in the fridge. FYI… the dough in the photos is made with almond floor.
Gluten Free Playdough

Makes 1 1/2 cups of playdough


Ingredients:
1/2 cup rice or almond flour
1/2 cup corn starch
1/2 cup salt
2 tablespoons cream of tartar
1 cup water
1 teaspoon cooking oil
food coloring (I used the neon food coloring)
Directions:
Put all ingredients in a sauce pan EXCEPT for the food coloring and mix well. (You can add the food coloring now if you plan to make the whole batch the same color.)
Cook over medium heat, stirring constantly, until the mixture pulls away from the sides and looks like moist mashed potatoes. Do not over cook or the playdough will be crumbly.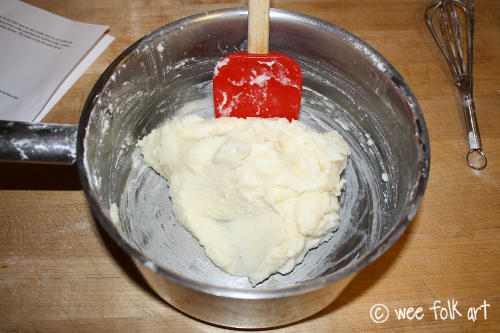 Divide into 3 parts. (1/2 cup each)
Make a well in the center of each and add 12 drops of food coloring.


Mix in well.


When cooled, store in air tight containers.

https://www.weefolkart.com
Copyright © Wee Folk Art 2008 – 2010. All rights reserved.

All photos, text and patterns are copyright protected. You may not copy, reproduce or redistribute any material found on WeeFolkArt.com without written permission. Wee Folk Art retains all rights.