When it came time to make the dogs their birthday cake, I did an Internet search to find a recipe. I shouldn't have been surprised, but there were a ton of recipes! Most were baked and frosted. As I was trying to decide which one I was going to make, I had a thought. We have 4 dogs; 2 elderly Yorkies, Ringo and George, and the 2 youngsters, Leonard and Sheldon. In our house the standard fare for the dogs is dry kibble with the left over protein from our meals. That is for everyone except for Ringo. He is 15 1/2 years old and has a special canned dog food diet. When it is time to eat, we bring Ringo in the kitchen, and shut the gate so the other boys can't get in. Often they sit by the gate watching as Ringo sloooowwwwllllyyyyy eats. They are absolutely certain he is eating food of the gods and they are denied!
So, I decided they would be just as happy with the coveted wet dog food out of the can… with a couple extra ingredients thrown in. But given the fact that these guys seem to be connoisseurs of a wide variety of animal excrement, I'm not sure it's high praise to say they LOVED it! But, hey, it was their birthday 🙂 Below is Pixie's recollection of the recipe we prepared, and below that the real one. Hope your canines enjoy!
Chef Pixie joined me in the kitchen to make the Doggie Birthday Cake!
Here is Pixie's Recipe on how to make Doggie Cake:
Ummm…
You use the ah, the brown stuff in a can
And you need some hard dog food
Mix it up
Annndddd… oatmeal
Take it out of the bowl and put it on the plate.
Ummm… put the candle on top.
She did a pretty darn good job remembering what we did on Sunday. Here is the "official" recipe.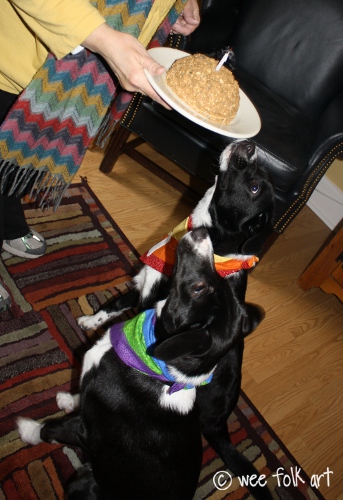 Ingredients:
1 can dog food
1 raw egg
6 pieces bacon fried, drained and crumbled
1 cup dried small piece kibble
1 cup old fashioned oatmeal
Directions:
With electric mixer, mix 1 can dog food and 1 egg.
Add 1 cup kibble, 1 cup oat and crumbled bacon.
Place on serving dish and mold into desired shape.
Optional: Can be frosted with sour cream.
Place in candle and sing Happy Birthday!
Scoop up a large serving spoon full for each dog. All 5 of our dogs had a large "piece" and it was scarfed down in seconds 🙂