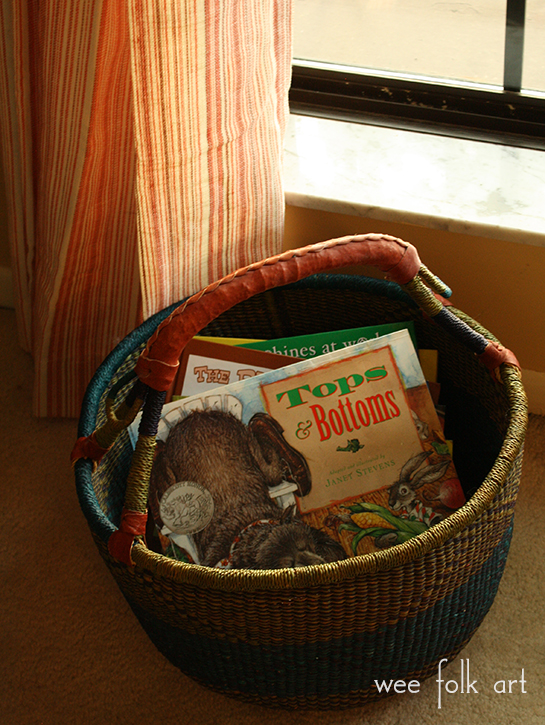 Although the weather is launching a full scale, sizzling protest this week, refusing to yield to cooler temperatures… autumn is just around the corner. In fact, around here, the trees have been hinting at their fall foliage for a couple weeks. A little yellow here, a touch of orange there. Soon, very soon, it will be time for cider and donuts, apple crisp and pumpkin pie. As many of our reader already know, we love the fall around here and love to celebrate it in full gusto. Although we have a couple school weeks under our belt and my kiddos are beyond using our Harvest Time Curriculum for school, I'm starting to gather all the Harvest Time books together for our book basket. They are some of my kids favorite books of all time including, Tops and Bottoms (you must say "It's a done deal bear," in a silly accent), The Little Red Hen (my kids take turns saying, "Not I"), The Rusty Trusty Tractor, and the Ox Cart Man (one of my very favorites).
Over the years I have always meant to go back and update Harvest Time and all the other seasonal curriculum plans I have shared but have never had the chance. Well, you may be excited to hear that an updated edition is in the works. It will include some new books to replace those that are now out of print, some new crafts and activities, the long ago promised supply list and extra journal pages, and will hopefully be rid of all the typos that have annoyed me for years!
It may be a little late in coming this season, hopefully we will be ahead of things more with the updated Winter Wonderland unit, but look for it shortly. In the meantime please note that I have added a few new books to the Amazon book list to help you find replacement for some of the books that are now unavailable. Fortunately all of the core fictional literary books appear to be available it is just the non-fiction books that seem to come and go.
Here are some of the new suggestions…
Replace Tractor (MACHINES AT WORK) by DK Publishing with Farm Machines by Nancy Dickmann

Replace Grains to Bread by Inez Snyder with Bread Comes to Life by George Levenson

Replace How We Use Wool by Chris Oxlade with Everyday Materials: Wool by Andrew Langley

Replace Farmer Market Rounding by Julie Dalton with Sorting at the Market by Tracey Steffora

Replace Caps, Hats, Socks, and Mittens by Louise Borden with Sunshine Makes the Seasons by Franklyn Branley

Whether you homeschool or are just looking for seasonal activities to complete with you little ones… be sure to check out our free autumn curriculum.