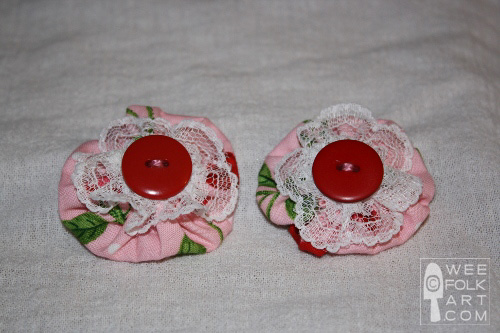 The girls needed matching barrettes for their new outfits, so of course I got right on it! Although they haven't seen them yet, I'm sure they are going to love them. I made these for Pixie, using the cherry print in her ruffle. I decide to use a yo yo style with lace to mimic the ruffles in her outfit. For Fairy I plan to make a set of our Contour Clip Barrettes with the cupcake applique found in the pattern.
The Yo Yo barrettes were totally fun to make and easy. The set took me only half an hour to make. Think of the possibilities. An afternoon of barrette making would produce a bushel of barrettes! Think summer birthday parties. What a great gift, right?
Our pattern for the Yo Yo Contour Clip Barrettes is available HERE or in our FREE Open Pattern section. Enjoy!