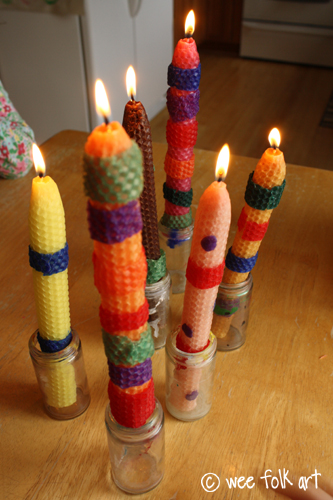 Our activity to go along with The Ox Cart Man was making Rolled Beeswax Candles. The last time we completed this project we used the natural colored beeswax but this time we spiced things up a bit with the multi-colored package of beeswax from A Toy Garden.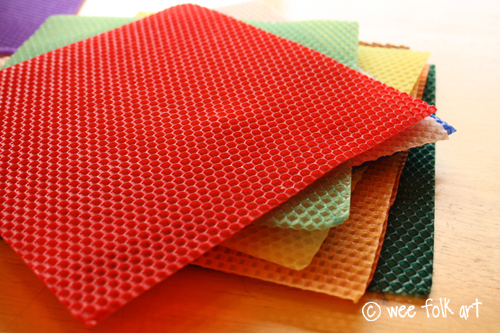 To start with I set the stack of beeswax sheets near the stove while I made lunch to warm it up a bit. You want the wax to be warm enough to bend freely, but not melt. If the wax is too cold it will crack while you are working with it.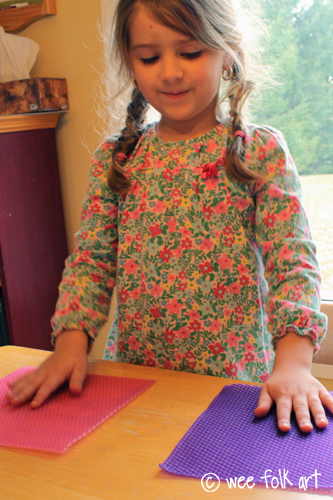 Each of us chose one colorful full sheet to use as our candle base.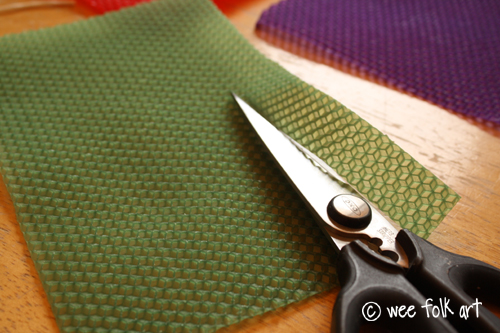 I then used kitchen shears to cut some strips out of the other colors.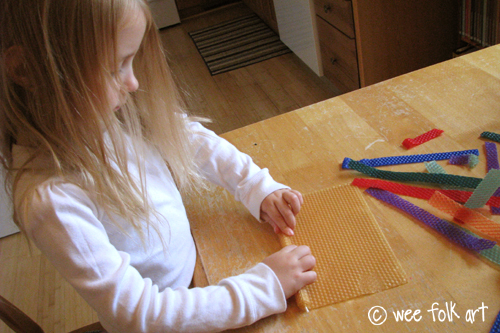 We tightly rolled the base sheet of beeswax around a wick. I did help each of the kid get their candle started rolling around the wick but even Pixie was able to take it from there.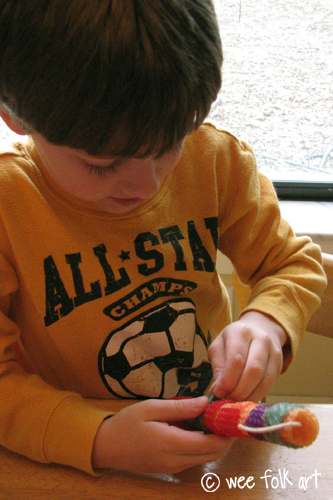 We then added some of the colorful strip to decorate our candles. You could even make more elaborate shapes if you would like.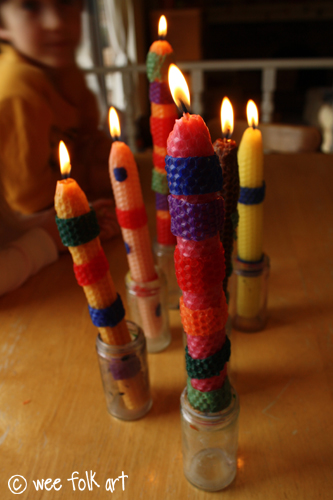 I trimmed the wicks and put our candles into our paint jars (I need to get/make candle sticks with wider bases). We now have some very festive candles to use this holiday season!
---
This week we are working on Week Ten of our Harvest Time unit. I will be posting a weekly update to give everyone a space to chat about the program. If you would like more information about the program you can learn more and download the free homeschooling curriculum on our Harvest Time page. All of the directions for the art projects, recipes and activities are included in the curriculum guide. If your family is participating in the Harvest Time curriculum either for homeschooling or after school enrichment we would love to hear about it! Please leave a comment in this post in regards to your experiences with Harvest Time's Week Ten activities. You are welcome, and highly encouraged to leave links to your Harvest Time's Week Ten blog posts or pictures in the comment section of this post.
Harvest Time Week Ten
Primary Book: The Ox Cart Man,
Enrichment Book: Farmer's Market Rounding,
Activities: Beeswax Candles,
Field Trip Idea: Farmer's Market or Craft Show,
Art: Pinatas,
Poem: Thanksgiving,
Flower Fairies: Strawberry Fairy& Coloring Page
Links from Our first time completing the Unit…
If your family is working on the Harvest Time curriculum either full time or just for some family fun enrichment, you are welcome to add the Harvest Time button on your website. You can save the button to you computer and upload as a photo to your site (you may want to link it back to the Main Harvest Time Page https://weefolkart.com/content/harvest-time-preschoolkindergarten-curriculum) or just copy the green text below and add it to you site.

<a href="https://weefolkart.com/wp-content/uploads/archive/harvest-time-preschoolkindergarten-curriculum"><img src="https://weefolkart.com/wp-content/uploads/archive/harvest-time-button.jpg">