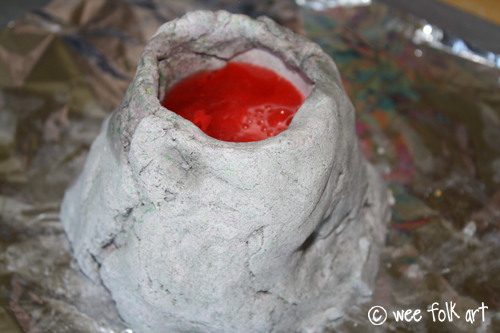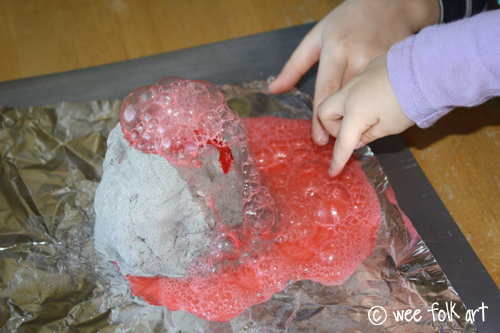 We have been working on a Geology Unit for the past 8 weeks or so. I let the kids take turns choosing science projects, this was Bug's request. Science is the subject that I feel comfortable letting the kids call most of the shots but I have used Evan-Moore's Geology Guide as a reference point for myself and kids enjoyed most of the listed activities, including the making the mini-books. We also added in lots of books and dvds from the library. As kind of our grand finale to the unit, and the main reason I think Bug wanted to do a geology unit, we made a kitchen volcano… a science fair classic. Now, I'm not totally sure how much the homemade volcano really ties in scientifically with a true volcano… but it does look cool.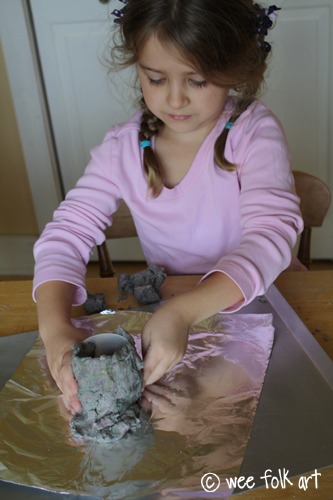 First we whipped up a batch of our basic salt dough. I added some food coloring to give it a gray/brown rocky color. Bug and Fairy built the volcano up around the sides of a small Dixie cup on a piece of tin foil. Once the form was complete, we dried the volcano in a 250 degree oven for several hours and then let it sit over night.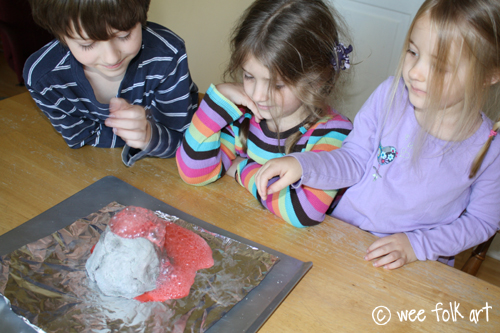 The following day we were ready for the eruption. I tried following the book's recommended baking soda/cream of tater wrapped in tissue paper directions… but it didn't work. The vinegar just wasn't getting through the tissue paper. So I ended up just adding a couple Tablespoons of baking soda directly into the cup. Then each kiddo took turns pour the vinegar/food coloring mixture into the volcano.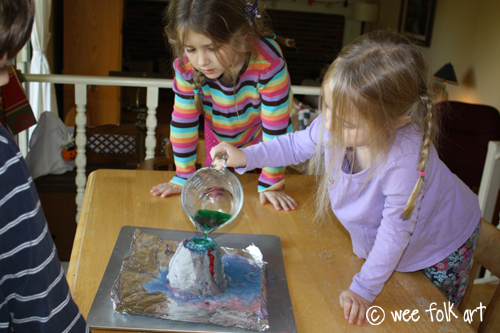 Each kiddo got a chance to make the volcano erupt. We used a different color each time just for fun. In the end this was really a quick project and not nearly as messy as it seems. Everything was contained on one tray.