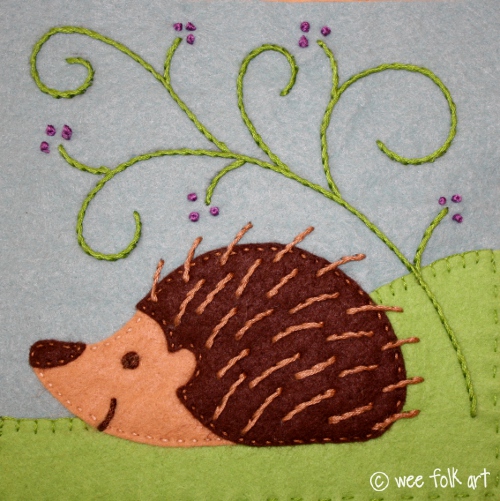 Several weeks ago one of our readers asked if we take requests for applique blocks. Basically I think I told her, "Absolutely, if it's something I want to make 🙂 " In other words, ask me to design a computer keyboard… probably won't get to that. But ask me to design something as cute a hedgehog… well, I can hardly say no. So, to "guest" that requested a hedgehog… here ya go. Hope you like him. Not to toot my own horn, but I think this little guy is so stinkin' cute I want to adopt him and give him a name! Maybe Stanley… he looks like a Stanley, right?
Anyway… here is our latest applique block, designed to fit on a 6" x 6" block, but it can be enlarged or reduced to meet your needs. We are in the process of having our exterior painted… rather our house's exterior painted. I wonder if Tim would freak if I found a little nook to paint this guy on the house. Going to have to think about this, then perhaps ply him with a Boston Cooler, and pitch the idea 🙂
In the meantime, our Hedgehog Applique Block can be found HERE. Enjoy 🙂
https://www.weefolkart.com
Copyright © Wee Folk Art 2008 – 2011. All rights reserved.

All photos, text and patterns are copyright protected. You may not copy, reproduce or redistribute any material found on WeeFolkArt.com without written permission. Wee Folk Art retains all rights.