Homeschool Curriculum Planning
It is hot here! Mega hot with no end to summer in sight. But this morning we have a bit of a reprieve and some lovely drizzling cloud cover. Mornings like this, in the middle of summer, tease me with the promise of fall. Suddenly, I get this desire to sort through school supplies. I'm not quite ready to get back into the swing of daily school work and evening activities and of course, the kids run and hide when I start pulling books from their shelves. But on a morning like this, I am ready to start homeschool curriculum planning for the fall.
So today, I will be spread out at the kitchen table, coffee in one hand, highlighter in another, getting excited for another school year of learning with my children. Once I have made some notes in my planner and flipped through the new books, I will put them away for a couple more weeks and round up the kids to head to the lake for the afternoon, because it is really hot out there.
Thinking of Homeschooling?
Have you been considering homeschooling your children? Are you looking for meaningful activities to do with your family after school? Do you plan activities for a preschool, daycare, or after school center? Would you like to incorporate a rhythm into your day that is in harmony with the seasons? Are you looking for an easy, gentle, natural way to introduce your children to academics? Check out Wee Folk Art's Homeschool Companion Guides for Simple Seasons. Your family will love the special time that you spend together working on our seasonal units.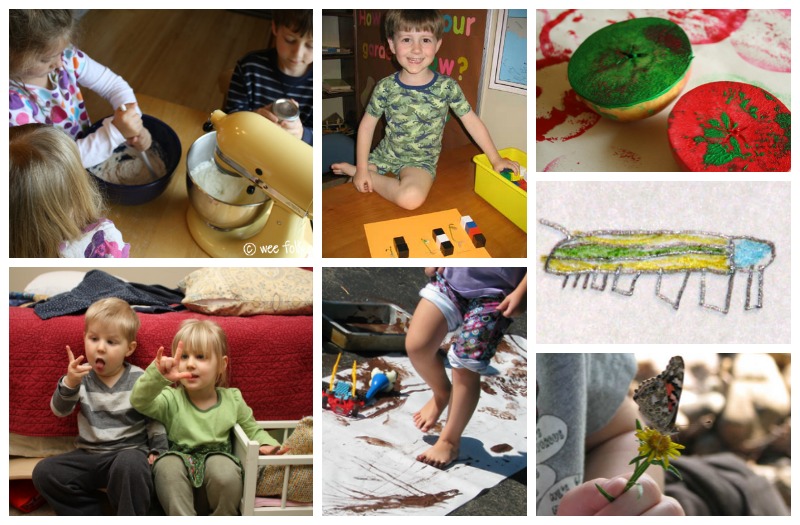 Simple Seasons Preschool and Kindergarten Homeschool Curriculum
I wrote Simple Seasons when my youngest was in preschool. It was a gentle way to begin our school days. We snuggled while reading books, dove into art projects, enjoyed yummy homemade treats, and had fun on simple nature walks or field trips. We have since repeated the units many times over the years and all of my children have enjoyed revisiting their favorite books and activities, no matter how big they have gotten. Although Simple Seasons was written for 4-6 year old children, your older and younger students will also enjoy joining in the fun.
Simple Seasons is made up of three core 12 week units Harvest Time, Winter Wonderland, and Spring Bs. There are also two bonus units that include a 4 week Advent Activities guide and a 10 week summer unit Puddles and Ponds. Weekly activities include a main story book, an additional digging deeper science or social studies book, poetry, craft, recipe, and field trip idea. There is plenty to keep you busy but the guides are very flexible allowing you the freedom to use them as they work best for your family. Each unit is available in a digital PDF and/or print format through our MagCloud store. For more details on each unit visit our Homeschool Companion site.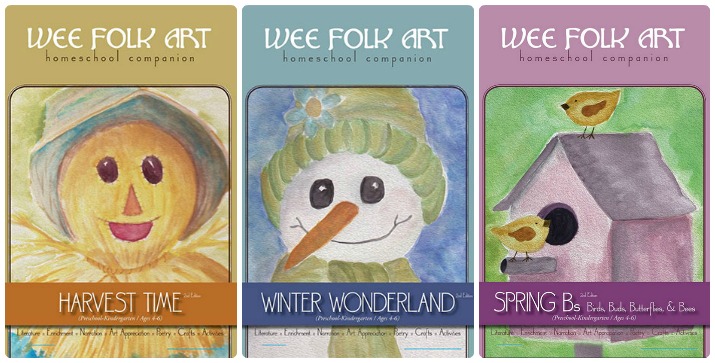 Additional Simple Seasons Preschool and Kindergarten Homeschool Curriculum Resources
To make it even easier to use, after you purchase your Homeschool Companion guides, visit our Amazon Homeschool Companion store to find all the books you will need to complete your unit. Join Wee Folk Art this fall with Harvest Time, or if you can't wait to get started, you still have time this summer to jump into Puddles & Ponds!
We also have a wonderful Fan Run Facebook group that offers support to families using any of the Wee Folk Art Homeschool Companion guides. Visit https://www.facebook.com/groups/1042634892415362/ to join. Reverie, our fan volunteer, has created many additional resource lists to use with your Simple Seasons guides. If you have a Facebook account, you will definitely want to stop by the fan group.
Let us know if you have any questions by posting a comment here or on the Homeschool Companion site. We would love to help you get started.