This is not a ready to go knit blanket pattern. Actually, this is  knitting project that has been in the works for awhile. I started it last January I believe. I hadn't planned to post the Ombre Wave Knit Blanket Pattern until it was done, but I keep setting the project down and then I completely FORGET what I was doing. This summer I have spent a couple of weeks going back and forth, knitting and frogging the same few inches, again and again. Finally, I have it figured out and I'm posting it here just in case I lose track again. This way I have the pattern saved. It is not a difficult knit blanket pattern, but for some reason when I set it down I have a hard time picking it back up again without my notes.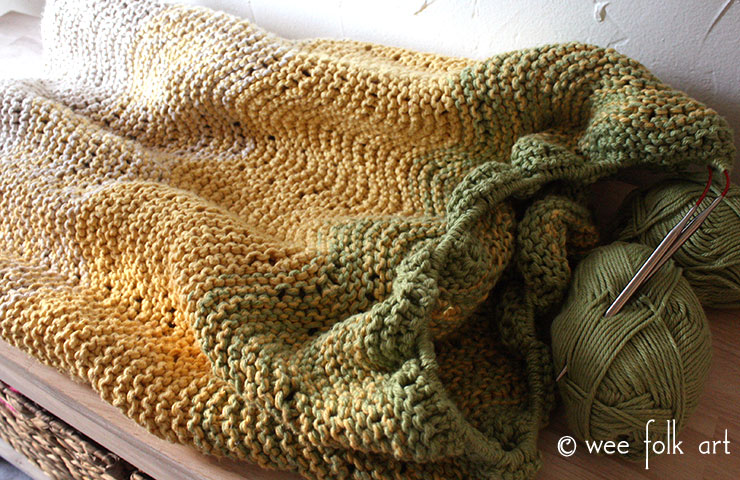 So today, rather than posting a finished pattern, let's call this a WIP (Work-in-Progress) KNIT ALONG. Maybe with your help, I will in fact finish it!
I began this project after the holidays last year. I am making it with Knit Picks Comfy Worsted Cotton, two strands held together. It is working up into a super snuggly blanket. I wanted use an easy to remember pattern (LOL) that I could knit while watching a show in the evening. This blanket is intended for Pixie who requested a rainbow blanket. Instead of creating a literal rainbow like my Rainbow Throw, I decided to soften the rainbow by alternating when I add in new colors of yarn. I have no idea how much yarn it will take in the end, but I am estimating around 4-6 skeins per color.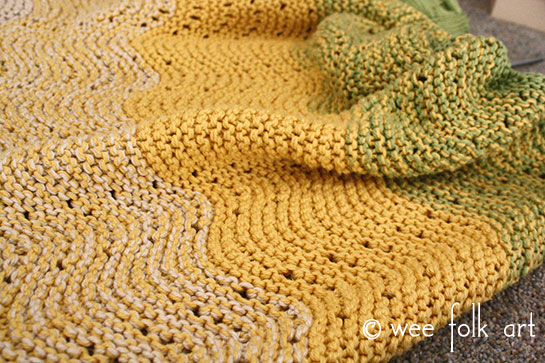 Ombre Waves Knit Blanket Pattern WIP
This is not a finalized pattern. I do not have a formal gauge guide or completed materials list. If you want to join in the project, feel free to play with my notes. If you notice an error, please let me know.
Cast on 200 sts holding two strands of same colored yarn together. I am making a fairly large blanket with two strands of worsted weight yarn on size 10 needles. It is about 54 inches wide on the needles. If you would like to adjust the size, the pattern repeat is a multiple of 18sts plus 20 sts for borders. It looks like each pattern repeat of 18 sts is equal to about 4 inches in width (non-stretched/blocked) and every 6 row repeat is equal to about an inch of length.
Row 1-4: Knit.
Row 5, Wave row: K1, (K2T) 3x, *[(K1, YO) 6x, (K2T) 6x], repeat until 13 sts remain. (K1, YO) 6x, (K2T) 3x, K1.
Row 6: Knit.
Repeat rows 1-6 five times. Cut one strand of color A yarn and join a strand of color B. Knit the wave pattern 5 times holding the color A and color B strand of yarn together. At the end of the pattern cut the second strand of color A and add in a second strand of color B. Knit the wave pattern 5 times holding the two strands of color B together. Continue adding in a new strand after 5 wave pattern repeats.