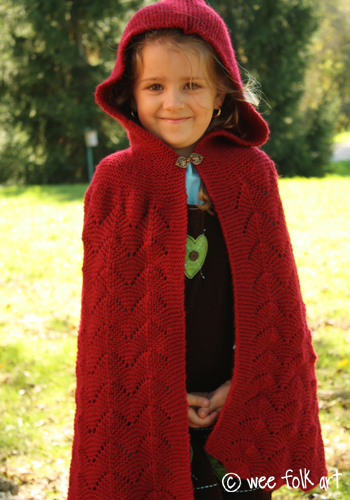 Fairy's request this year for Halloween was to be Little Red Riding Hood. Mainly she wanted this cape! I was a bit worried when I cast on a couple weeks ago whether or not it would be done on time. We have our first Halloween festivities next weekend. Although I missed my personal goal of being done before October, I was very happy to have finished it yesterday. Fairy is absolutely thrilled with it. I also bought some pretty corduroy that is deep red with woodland critters on it to make her a skirt. I hope to get the skirt made this weekend.
Finishing this project definitely puts the book Fairy Tale Knits as one of the best buy knitting books my mom and I have ever purchased. Combined we have now completed at least 5 of the projects in the book… with plans to complete a few more.
BTW: I did add 2 extra repeats of the lace pattern… just to be sure it was long enough. After blocking it, I'm not sure it was needed though. Also, I forgot to change to size 5 needles when I got to the hood and just continued it on the size 6s.