Last week we received this email from a reader and having received her permission, wanted to share her email and pics.
Kimara and Michelle,
I found your blog a few weeks back. At the time I was bored and I knew I wanted to craft and sew but just had no inspiration. Looking through your patterns inspired me. A dear friend of mine is getting married in February and I wanted to make them a unique gift – one that reflects who they are. They both love the outdoors and gardening, so when I saw the tree applique I knew I could put a twist on it and embroider their initials in a heart in the middle of the trunk – one of those endearing memories of love. To complete the pillow I found a wool sweater at the Goodwill with a neat pattern, felted it, and used that for the backing and frame around the applique. I just finished the pillow last night and I wanted to share it with you. Thank you for inspiring me with your whimsical patterns – I have never used or worked with felt – and now I love it! I have so many ideas floating around in my head now and I attribute that to you both, and all the work and creativity that you share with others on your blog.
A million thanks,
Michelle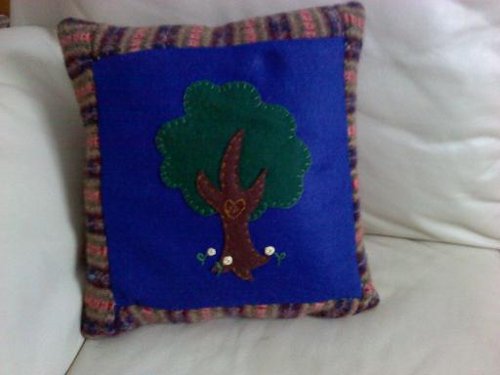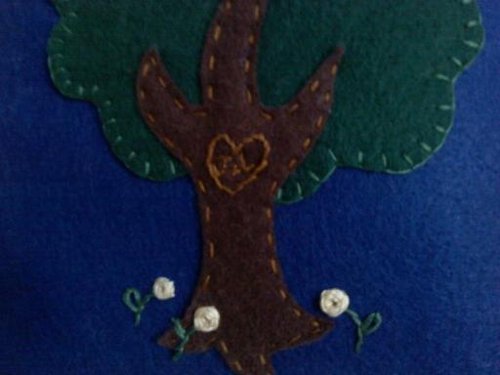 We thought this was such a lovely adaptation of our Tree Applique Block, that we wanted to share. Unfortunately, Michelle does not have a blog site or we'd send you there, but wanted to share how combining your needs and inspiration with our patterns, can turn out something very unique. We also thought this could be worked into a lovely Valentines project. The initials on the tree are brilliant and speak of Love. Using an old sweater and felting it for the pillow itself is icing on the cake. Thanks for sharing, Michelle!