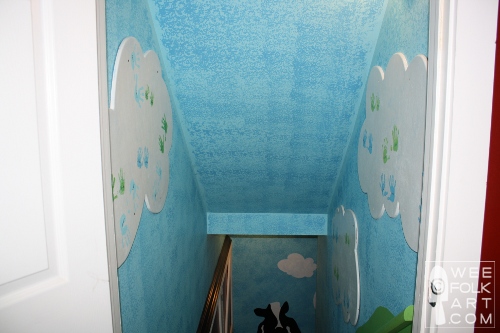 So, last time I told you about handprints on the ceiling of my preschool and how hard it was for me to leave them. When I decorated our playroom here, I wanted my grandbabies' handprints included. I decided I was going to print them on a cloud. Then, my ever brilliant Tim, suggested we cut clouds out of plywood, so when we eventually move, we could take them with us! Smart guy, right?
To make the clouds, begin by drawing a lofty cloud on paper. My clouds are approximately 42" x 28". To make a pattern use butcher block paper or tape pieces of newspaper together. I have not included a pattern of a cloud, because to be quite honest, it is far easier to simply sketch one than to try to enlarge a pattern. If you need inspiration, look at one of my clouds in this post or in When the Cows Come Home.
After you have drawn a cloud, cut it out and trace around the outer edge on 3/4" plywood. Round the edges by sanding. (If you don't have tools to do this yourself, make a pattern, buy the plywood, and offer to make a pan of brownies for anyone that can help you cut it out! It really is a fast project.)
After it is cut out, begin by painting the front and edges a light to medium blue. After it is dry, using a large brush, paint the cloud white, using a swirling stroke. Begin at the outer edge, and work inward. It's okay to let a little of the blue show through here and there. It will give more dimension to the cloud. Use should only need one coat of white paint. I used a satin finished paint. After your clouds have dried, they are ready to put handprints on.
Here is what we do with our clouds. We have 1 cloud for each grandchild. Every year in January we add a new handprint. Since Michelle has 3 children, they have 3 clouds. Instead of putting all their handprints on individual clouds, we rotate through the clouds every 3 years, and each year all three of the children put their handprint on the same cloud. We figure we will have them do this until they are 14 years old. When they have all turned 14, we will have 3 clouds, each with 14 sets of handprints, with each sibling having their own cloud to keep. Besides taking their handprints, on the back of the clouds, we write their age at the time of the printing, and list their favorite activities, toys and color, and include their clothing size… just for fun!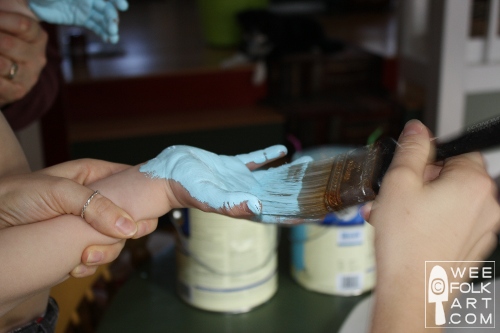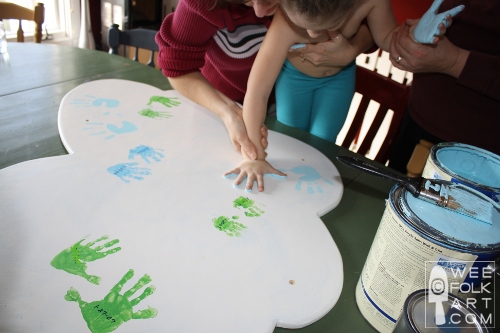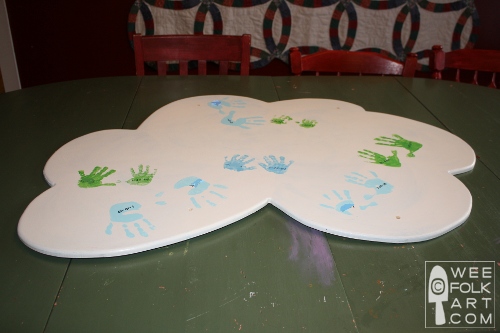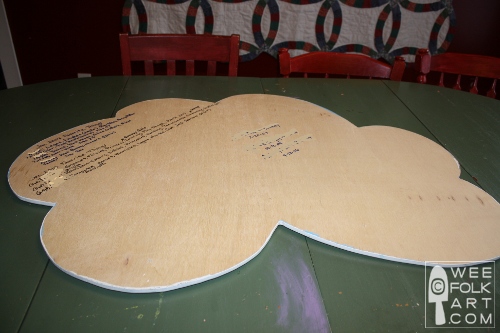 Tim and I have 5 children. So far only 1 of them has given us grandbabies. We plan to continue this tradition as each child starts their own family. As you can well imagine, we will have very cloudy walls! Although clouds fit well into the theme of our playroom, you can use this same idea with any number of shapes.
I think the grandbabies will love these when they are grown up and off on their own. What a special keepsake!
(BTW… I blobbed out the children's real names… looks a bit messy! Should have had Michelle Photoshop them I suppose but you get the idea!!!)