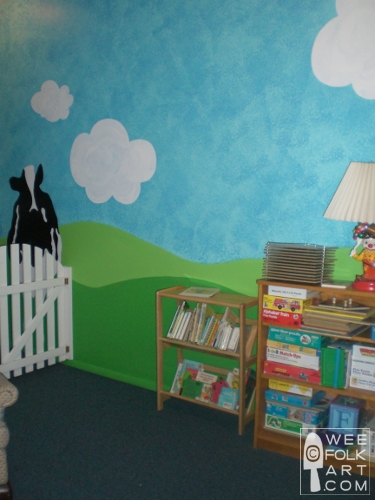 January, February and March are the months Michelle and I decorate. It is post holidays and before the gardens call us outdoors. Below is a post from One Generation to Another, first published June 8, 2008. We decided this would be a great time to share this because we will be doing our handprint project next week. Watch for the handprints below!
I have a singing voice with about a 6 note range…7 if someone steps on my foot real hard. I would never dream of singing for a room of adults, but I have no problem at all playing my guitar and singing for children. I'm not sure if their hearing isn't fully developed or if it's because their hearts are bigger than their cochlea, but they think I have a beautiful voice. Go figure! With the exception of food, which turns the kindest child into the most ruthless critic, children have a tendency to see the best in things. Dad can be just this side of a 90 pound weakling and his children will think he's the strongest man in the world. Mom can be toting around 20 superfluous pounds, donning a sweatshirt smeared with baby snot and a ponytail that is sliding down the side of her head, and her 5 year old son will look at her and say, "Mommy, you're so beautiful." Clouds fill them with awe, as do garbage truck. Children are a dream audience!
So, when it comes to decorating for children, you don't have to have great talent, just a willingness to be bold and adventurous. When Tim and I joined households, I claimed the basement. Earlier Tim had finished a third of the basement with drywall and carpet. I had him finish another third, turning it into a library/guest room/play room…a regular multi-purpose room. I needed somewhere to house the contents of my preschool plus all my children's toys that I had saved. So I turned the "front" part of the basement into a playroom.
My first job was to come up with a "theme". I wanted to create a space that was cheerful and encouraged play. When my children were growing up, we had a timeshare at a resort called Smuggler's Notch in Vermont. One of the many regional things we discovered, long before they went "public", was Ben & Jerry's Ice Cream. Their ice cream is delicious, but we were just as enamored by their social consciousness and great imagery. To us Ben & Jerry's was symbolic of close family times, beautiful scenery and awesome vacations. So, I decided to borrow Ben & Jerry's motif to turn our basement into a pastoral paradise! (Visit their website and compare to our playroom!) Here are the steps I took to create our room.
1.Begin by taking a pencil and marking "rolling hills" on your wall. (This should be about one quarter to one third of the lower wall.)
2.Paint the sky using a light blue. Paint to the hill line.


3.I sponged painted over the blue with a darker blue…more turquoise.
4.Paint the hills using a light green.
5.When the green paint dries, take a pencil and mark smaller rolling hills on the green paint.
6.Using a darker green create the "foothills" by painting over the light green paint.
7.Using large pieces of paper, at least 36 inches wide, refer to my cloud pictures or ones at Ben & Jerry's and draw large, puffy clouds. Make at least 6 using different sizes. (You'll be able to use each cloud multiple times.) Tape the clouds on the wall in a pleasing pattern. Make sure to make the pattern random. Remember, clouds don't "line up" in the sky.
8.Trace around each cloud and remove the paper.
9.Using white paint and a large brush fill in the cloud. Start by outlining the clouds creating swirling patterns. Keep working toward the middle with swirling brush strokes until the cloud is all filled in. It's okay for some of the blue to show through. This gives a more authentic look to the clouds.


10.We then found an image of the cow we liked and blew up the image on our printer. My daughter was more than helpful, especially with this part! We taped the finished image to the wall, tracing the outline and spots with a pencil. Push hard and you will make a slight indentation in the wall that you can use for your outline or from the backside, color over the lines with pencil or crayons, and when you trace from the front side, the pencil marks or crayons will leave the outline on the wall.


11.Paint your cow black and white and ta-da, you're done!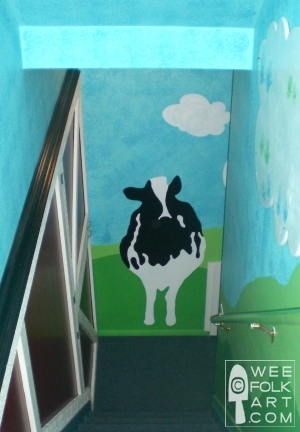 12.Add any extra embellishments to suit your fancy. We added a picket fence gate as a way of keeping the kids off the steps. And for extra fun, we turned the wall coming downstairs into a "barn". (There's also a cat chasing a mouse up the stairs!) Go crazy with your own touches.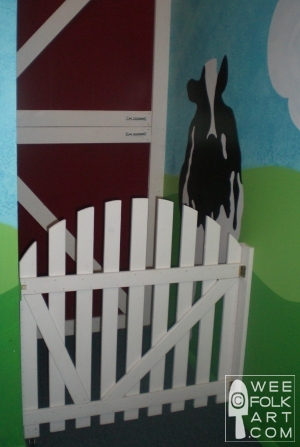 There are many motifs out there that would translate well into a playroom. Although most of the images are copyrighted or trademarked, as long as you're only using them for decorations in your house, you're reasonably safe! For ideas look through children's books and internet sites. Remember…it's just paint…and children will love your efforts…even if the end results aren't Louvre worthy! Oh, and have fun!