Knitting Hexipuffs Quilt Blanket
I know that I'm really late to the whole Hexipuff party, considering that there are over 9,000 people working on a Beekeeper quilt on Ravelry, but this is a project that I have had queued forever and I finally took the plunge and started it. So today I'm going to share some pictures of the Knitting Hexipuffs Quilt Blanket that I am working on.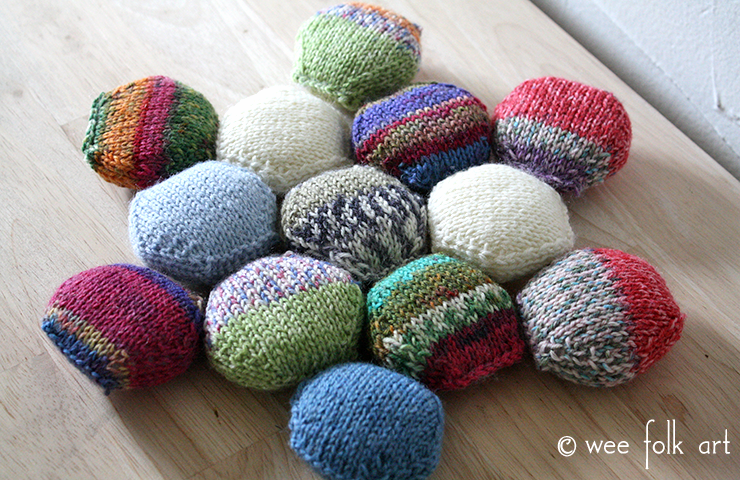 If you have been paying attention lately, all my posts seem to be about small projects and crafty things I can do on the go or for short periods of time. My kids' activities have us on the go all the time and my attention span in the evenings is minimal. I just don't have it in me to knit long rows of lace or work with patterns that require concentration. Small, easy to make projects with instant gratification are about all I can handle.
Knitting Hexipuffs
My current obsession is knitting these cute little hexipuffs. It takes me about half an hour or so to knit one, so they are super satisfying for short knitting bursts. I don't need a lot of lap space to work on them and the pattern is so easy I had it memorized after the first puff was completed. Eventually all these little hexipuffs will be joined together to make a quilt which is a LONG term goal… considering I will need hundreds of them.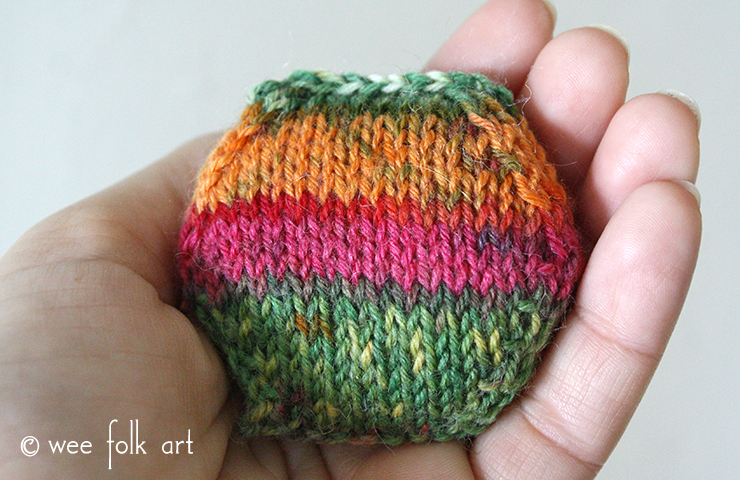 Hexipuff Pattern
I started with formal pattern for "The Beekeeper's Quilt" by Tiny Owl Knits. I played with the hexipuff pattern a bit until I was satisfied with my results. There are tons of other bloggers who have posted their variations of the hexipuff but I found that I enjoy knitting my hexipuffs fairly close to the original formula. I'm using size 5 needles instead of 4s simply because that is what I had in my bag when I went to start the project. I'm a fairly tight knitter so it seems to be working fine for me. My knitting is tight enough that the stuffing isn't showing through. The main thing I have altered is that I switched to using the magic cast-on method that is illustrated here: http://knitty.com/ISSUEspring06/FEATmagiccaston.html. I find that it makes for a cleaner cast-on edge, and more importantly, it saves me the step of having to divide the stitches onto two needles. I also think that my hexipuffs keep a stronger hexagon shape if I make sure to knit the first and last stitch of every row instead of starting my increase and decrease rows with the increase or decrease right away. I played with different increase stitches but returned to the simple knit into front and back for my increases. Finally, I skip the last knit row and bind off right after the last decrease row. My hexipuffs are more even that way.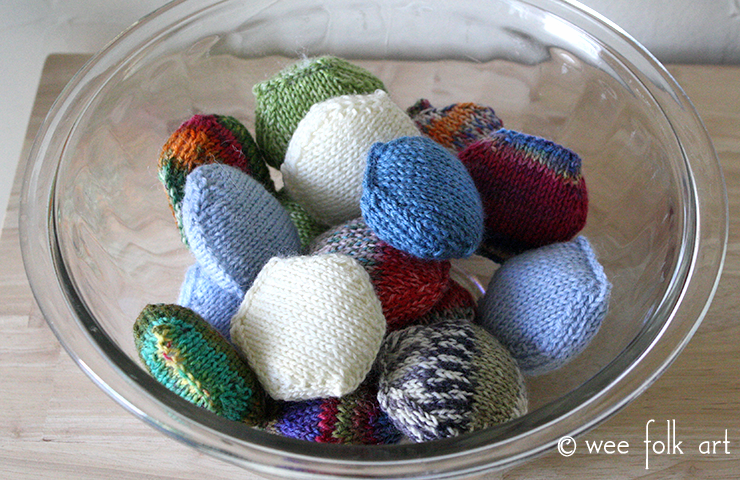 Hexipuff Yarns for Knitting Hexipuffs Quilt Blanket
For the yarn, I am using whatever bits of sock yarn that I have on hand. I really love how the self-striping yarns work up into the hexipuffs. The quick change in colors adds even more fun to the project. Several ETSY shop owners sell hand-dyed mini skeins perfect for knitting a couple special hexipuffs. I couldn't splurge on a large amount of hand dyed yarns for a large scale project, but I may get a few mini skeins. It has also been awhile since I've done any yarn dyeing. I am tempted to buy a few natural skeins of sock yarn to dye myself.
For the original pattern visit Tiny Owl Knits for  The Beekeeper's Quilt.
For a crochet version check out the Apiary Puff.
If you want to dress up your hexipuffs, there are lots of hexipuff knitting chart patterns available on Ravelry.