Follow the koala bookmark pattern to sew and embroider an adorable felt bookmark that serves double duty as a reading pal!
Koala Bookmark Pattern Materials:
wool felt
embroidery floss
yarn
pattern
Koala Bookmark Pattern Directions:
1] Make copy of pattern.
2] Cut out materials as follows:
1 back – gray
1 body – gray
1 arm – gray
1 head – gray
2 ears – gray
18 – 28 leaves – green
3 pieces different colored green yarn 30″ long each
2 eyes – white
1 nose – black
3] Following pattern, position nose on head. Using 3 strand of floss, attach nose to face using a small running stitch. Position eyes. Attach by placing a French knot in the center of each eye. Using 6 strands of floss, add mouth using a stem stitch.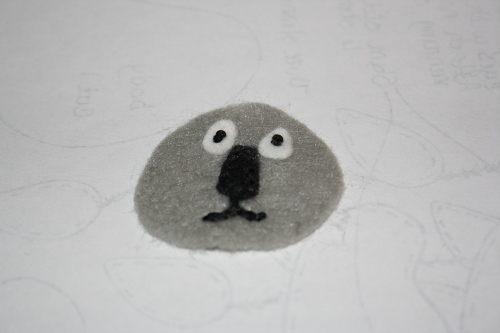 4] To make the vine, knot the 3 pieces of yarn together 1" from an end. Braid the 3 pieces until you are 6" from the end. Knot the tail close to the end of the braiding section. Cut the extra yarn leaving 1" beyond the knot. (You may wish to braid the vine to the end, and wait to cut the length until you've added the leaves to insure even leaf placement.)
5] Using 2 leaf pieces for each leaf, begin by sewing a leaf around the end of the vine. You will be covering the knot. Add leaves ever 2″. (If you want a leafy vine, just add more.) Stagger the leaves so they are on different sides. NOTE: To add the leaves begin by sewing up 1 side of the leaf. Then open the leaf and place the vine inside on an angle. Continue your running stitch catching the vine at the top of the leaf and then again along the other side of the leaf. (Refer to photos.) You may want to leave the leaf off the vine that is around the koala's head. So, after adding your 2nd set of leaves, place the next set 4″ down the vine. Then continue with every 2″. Place your last set of leaves around the other knot.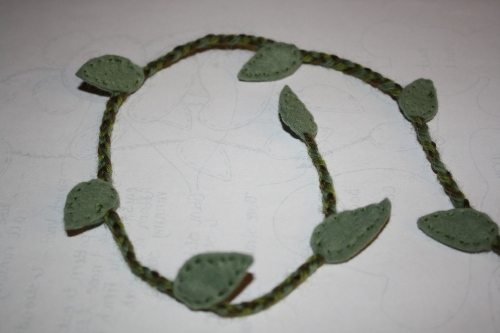 6] Lay the body on the pattern. Using the pattern as a guide, lay the vine on the Koala. Pin in place.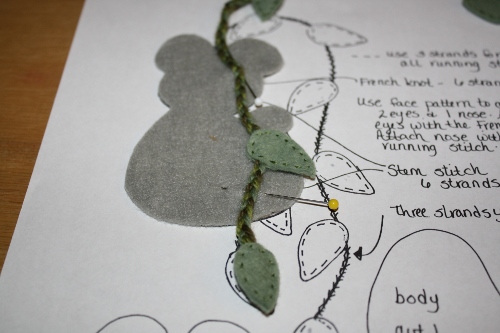 7] Using 3 strands of floss, sew ears, body, head and arm to the backing using small running stitches. Sew on in order listed.
8] Using 6 strands of floss, add the leg outline using a stem stitch.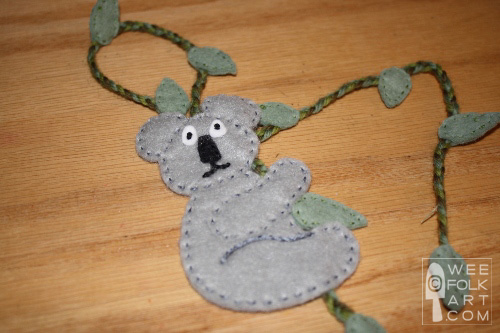 9] If you haven't already, finish the vine.
10] Share your favorite book with your new buddy!