I remember as a little girl going through my mom's and grandma's drawers. I can't remember if I was given permission to do this or if it was a covert operation done on the sly. What I can remember was how fascinated I was with the contents of their drawers. There were bras and merry widow corsets, and a plethora of gloves in assorted colors and lengthens. There were hankies with lace and beautiful embroidery; and then there were the always intriguing girdles and garter belts. Fortunately, with the arrival of the mini skirt in the 60s, girdles and garter belts gave way to pantie hose, so I was never subjected to the horror of slipping into a girdle! But I remember their smell well… they smelled like an old rubber ball that the dog had been playing with! It is a small wonder that another thing I found in their drawers were sachets.
Sachets were a great little invention that predated by grandma by hundreds of years. These little bags, stuffed with good smelling herbs, flowers or spices, have a scent that permeates the clothing around it. Although sachets are not nearly as common as they use to be, they really are quite delightful and practical to use. Not only do they give a lovely scent to a closed up drawer, if using the right herbs and flowers in a sachet, like lavender, they also deter moths. So keeping a few lavender sachets in your sweater drawer is a great idea. I also keep them in with my yarns and roving. Maple, from North Star Alpaca, always tosses in a little lavender sachet with her orders. Not only do they smell good, they serve a purpose.
Making our sachets is super easy and identical to our Lavender Beanbags… only smaller and filled 100% with lavender. For a sweet little gift, stack three of them and tie with a ribbon. And, for your own use, toss in drawers, and keep some with your wool yarns and rovings. I LOVE lavender and enjoy the smell whenever I grab my knitting!
Materials:
fabric in assorted colors (great use of fabric scraps)
matching thread
dried lavender flowers
Directions:
For each sachet, cut two 4″ squares.
With right sides together, sew 3 sides of the square, pivoting at the corners, using 1/2″ seams. NOTE: Make sure to back stitch at the beginning and end of each seam. This will stop the seam from opening allowing lavender to come out.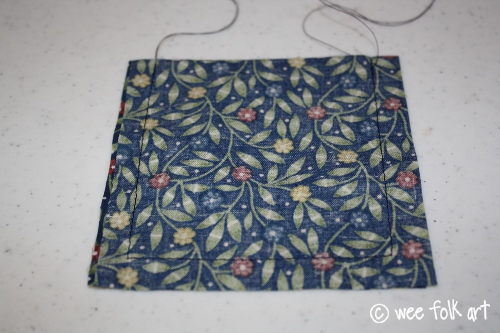 Clip the corners on a 45 degree angle being careful to not get too close to the sewn seam. This will help reduce the bulk in the corner.


Turn the sachet right side out. Turn the top edge down 1/2″ toward the inside of the sachet. Iron the bag making sure the turned down seam lays flat.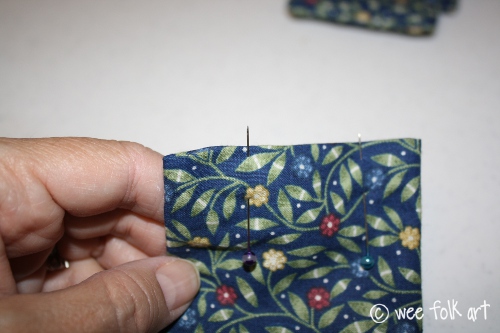 Fill your bag with 1/4 cup of lavender.


Pin the bag shut.


Sew the seam shut by top stitching 1/8″ away from the edge. Make sure to back stitch the beginning and end of the seam. Clip the loose threads and you have a sachet!


SUGGESTION: If you store the sachets in an airtight container before using, the lavender scent will last longer.
https://www.weefolkart.com
Copyright © Wee Folk Art 2008 – 2010. All rights reserved.
All photos, text and patterns are copyright protected. You may not copy, reproduce or redistribute any material found on WeeFolkArt.com without written permission. Wee Folk Art retains all rights.