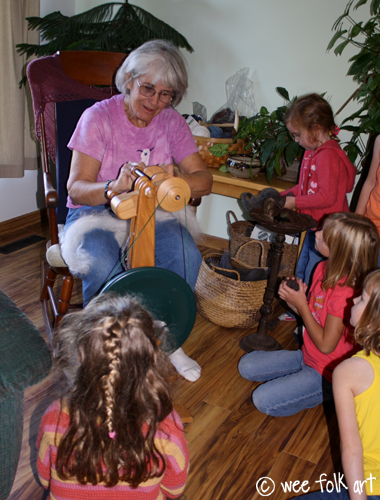 I "met" Maple, owner of North Star Alpacas, two years ago, soon after we started Wee Folk Art. I was looking for roving to use for different projects and came upon her Etsy store. I bought some roving and fell in love with its beauty and Maple's endearing ways. Over time we came to realize we lived a mere 90 miles away from one another. For a long time I dreamed of paying Maple a visit and today we finally got a chance to meet in person.
Let me start by saying Maple is every bit as much a sweetheart in person as she is online! Originally, I planned to pay her a visit by myself, perhaps sitting around knitting and chatting. As it turned out, she played host to one of Michelle's homeschooling groups, and opened her barn and house to a group of very delighted and inquisitive children.
We started by meeting Maple's new rescue dog, Jessie. Very handsome!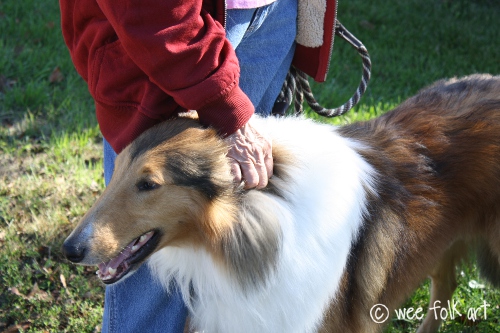 Next, we made our way out to the barn…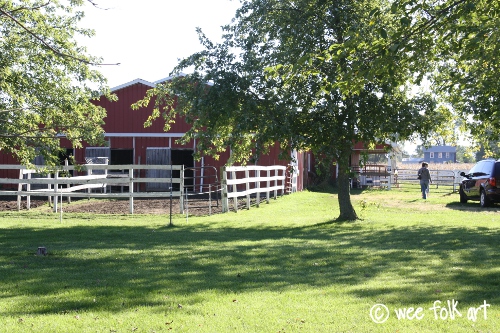 First we meet her 3 beautiful horses. Her white horse is quite the performer and could show his teeth and make "raspberries" on request. Highly impressive!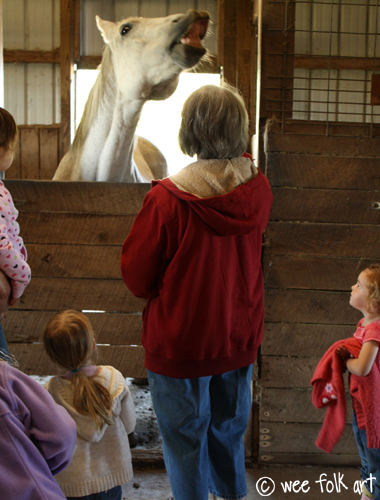 We finally got to meet the alpacas. Although they were all a bit skittish, the children were able to get some of them to eat out of their hands. Their fur is unbelievably soft!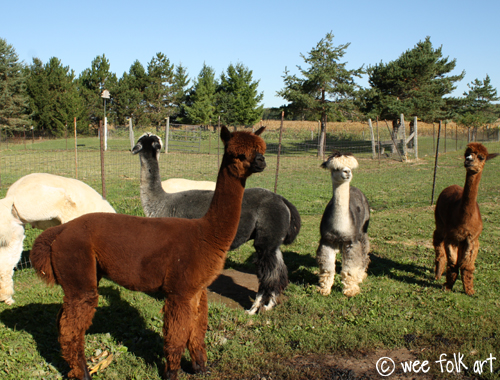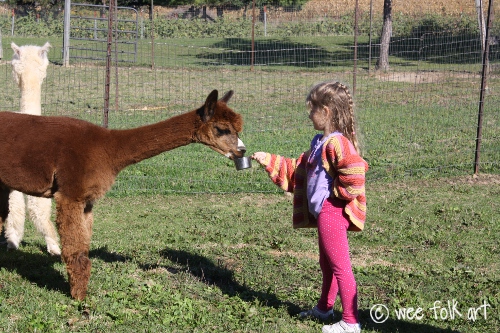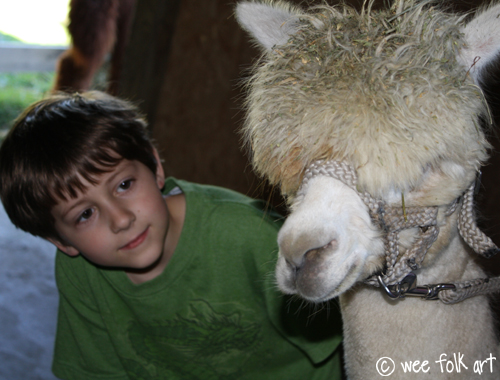 Despite the majesty of the horses and the allure of the alpacas, it was the common barnyard kitty that seemed to win the hearts of all the children.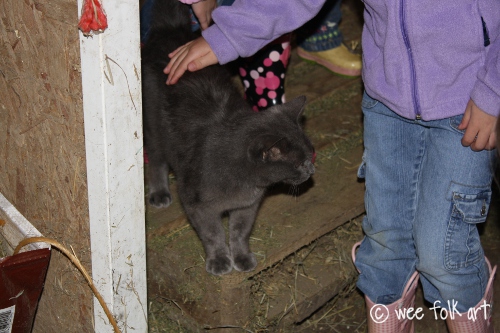 Leaving the barn, the children asked about a wagon in the yard that had a plank leaned against it. Miss Maple explained that the wagon held the manure from the alpacas and the horses. It is shoveled into a wheelbarrow and pushed up the plank, then dumped into the manure spreader. Each child wanted to look inside, so Miss Maple patiently helped each child up, where they peered into the wagon. (Uh… decided no picture of the contents of the manure spreader was necessary!)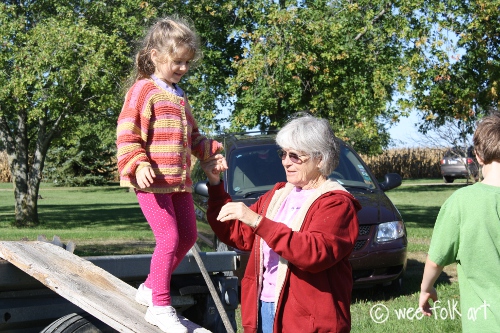 Then, back at the house, Miss Maple passed around pieces of the cleaned fibers taken from the sheered alpacas. It was so soft.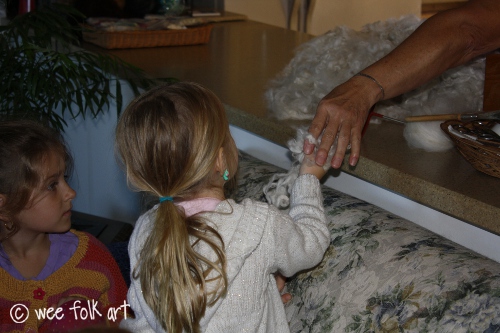 She then demonstrated how to card the fibers, thereby aligning them and turning them into roving. The children enjoyed turning the crank.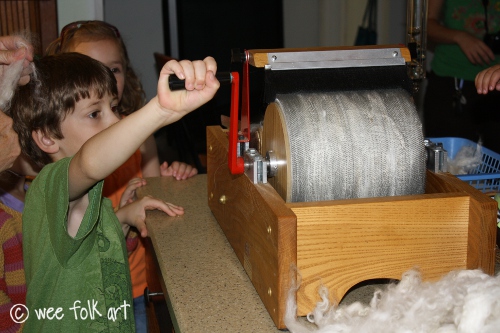 Finally, she showed us how to spin the roving into yarn. She made it look so easy. Everyone got a chance to try.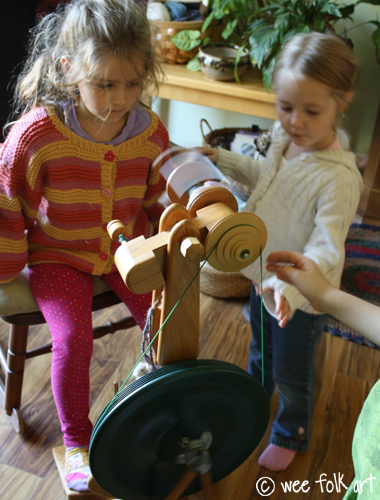 Even Michelle took a turn. Michelle has been spinning using a drop spindle. She's had a spinning wheel on her wish list for quite some time, but after a few minutes of spinning on a wheel, she is hooked! She's hoping it will be a Christmas present this year.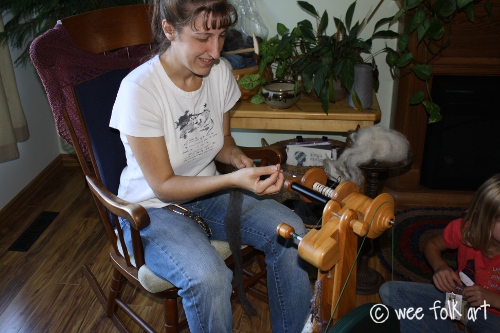 After everyone else left, Michelle and I hit Maple's Etsy store. WOW! That was exciting. Michelle had a hard time making choices, and I bought roving to put away for her as a Christmas gift. Hopefully, she'll have a spinning wheel to spin it on.
We so much want to thank Maple for her hospitality and for a thoroughly engaging day. Everyone enjoyed themselves. And to all our readers, make sure you visit Maple's shop, North Star Alpacas, for some truly beautiful alpaca fibers. Whether you spin, needle felt or use roving for gnomes' beards, you'll love working with these gorgeous fibers.
And, BTW Maple… I will be back alone for a quiet day of knitting and chatting… hopefully soon!