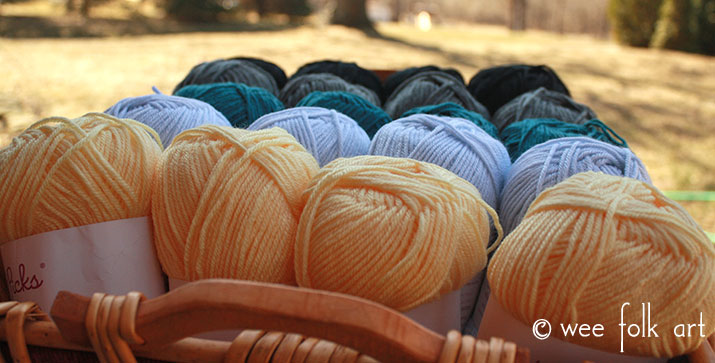 Some of you may remember that a few years ago I did a Newbie Knitting series here on the blog. At the time I know it encouraged many of our readers to pick up some needles and jump into the world of knitting. I also know that many of our readers still don't know how to knit. Every time my mother posts a link to a knitting pattern we get many comments about how our readers wished they knew how to knit. We also receive emails from readers who have completed our Newbie Knitting series and want to know what we would suggest for their next knitting project.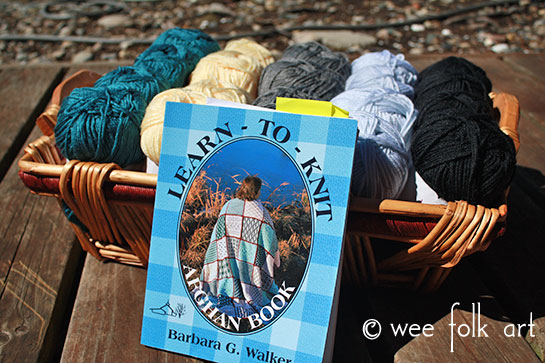 So today I would like to introduce our new knitting series that uses the Learn-to-Knit Afghan book by Barbara Walker. This book helps take the Newbie Knitter from complete beginner into the intermediate-advanced world of knitting. Each lesson introduces a new concept or technique that you practice while knitting a small square block. By the end of the book you will have completed 63 individual blocks that will be joined together to create a sampler style afghan. You will learn how to work with multiple colors to create mosaic patterns. You will also learn how to knit lace and cable designs. When you have completed your afghan you will feel ready to tackle just about any knitting pattern you would like.
I plan to share 1-2 blocks a week so that we will complete this afghan over the next year. I am taking notes and some pictures as I go that I will share with you. The weekly posts will also give everyone a great space in which we can discuss any trouble someone may be having with a particular pattern.
Materials:
Worested Weight Yarn in the following colors:
28oz Light Color A yarn (7-9 skeins)
28oz

 Light Color B yarn (7-9 skeins) 

12oz

 Dark Color C yarn (3-4 skeins) 

12oz

 Dark Color D yarn (3-4 skeins) 

12

oz

 Dark Color border yarn (3-4 skeins) 

​
​Additional Supplies:
NOTE: The Amazon links don't always load the correct needle size. Be sure to click on the size you need when adding the needles to your cart.
I will be starting the lessons in a week or two. I'm trying to get quite a bit ahead of everyone and this time will also give everyone a chance to collect the project materials. I will share more about the yarn I chose and my favorite knitting needles in another post shortly.
If you are completely new to knitting I recommend that you start by going through the Newbie Knitting series, at least the first couple of lessons. As I talk about the afghan blocks, I will be assuming everyone knows how to cast on, bind off, and use the knit and purl stitches.
SO LET'S GET STARTED!
Here are the blocks we have already completed!
Section 1 — Knit-Purl Combinations
Section 2 — Mosaic Patterns
Section 3 — Slip-Stitch Patterns
FYI – We are an Amazon affiliate.