To see the entire Out of the Block | Ice Cream Cone Cookie Cutter series, including pattern for felt applique block and how to make your own cookie cutters click HERE.
I've tasted a lot of sugar cookies in my days, and I have to say, this is by far my very favorite. What makes it so special… a splash of lemon! And I'm a sucker for lemon. When I go to restaurants, I ask for "water with obscene amounts of lemon". Frankly, Tim teases that how I tip is directly related to how much lemon they bring me. I've had waiters bring out an entire lemon, and they watch as I squeeze every last drop of juice into my water. Basically, it's lemonade without the sugar. But I digress… we're talking cookies here! Anyway… these cookies don't make you pucker, they just have a subtle lemon favor that makes this the perfect cookie to munch with a cup of freshly brewed tea or a tall, ice cold glass of milk 🙂
If you are unfathomably not a fan of lemon, simply omit the lemon zest and substitute vanilla extract for the lemon flavoring. BTW… this was a Michelle discovery, and once again the student is the teacher 🙂 This is the perfect dough to use with our hand-made tin cookie cutters!
LEMON SUGAR COOKIES
Ingredients:
1 1/2 cup sugar
1 cup butter, room temp
2 eggs, room temp
2 1/2 cups sifted all-purpse flour
1 teaspoon baking powder
1 teaspoon salt
1 tablespoon lemon zest (grated lemon peel)
1 teaspoon lemon flavoring
Directions:
Blend butter and sugar. Add eggs and beat. Combine flour, baking powder and salt, adding a small amount at a time to the mixture, blending well. Add zest and flavoring. Chill dough. On a well floured board, roll out a small quantity at a time to about a 1/4" thickness. Dough not in use should be kept refrigerated. Cut into shapes and bake on a lightly greased cookies sheet, for about 10-12 minutes at 375. Bake until set, but not brown. Sprinkle with colored sugars, before baking, or frost after baking. Dough can be frozen to bake at a later date.
LEMON SUGAR COOKIE ICING
Ingredients:
2 1/2 cups powdered sugar
1/4 teaspoon cream of tartar
2 egg whites
1/2 teaspoon lemon extract
food coloring (optional)
Directions:
Into small bowl, sift sugar and cream of tartar through a very fine sieve; add 2 egg whites and lemon extract. With mixer at high speed, beat mixture so stiff the knife drawn through leaves clean path.
(On humid days you may need to beat in more confectioner's sugar.)
Rolling out dough and cutting out cookies
Icing Cookies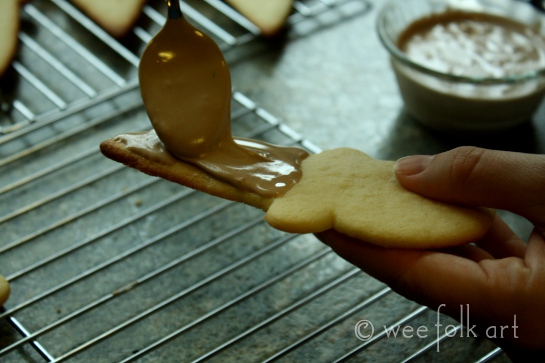 Adding sprinkles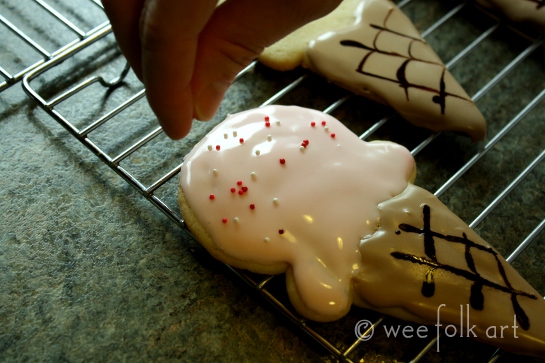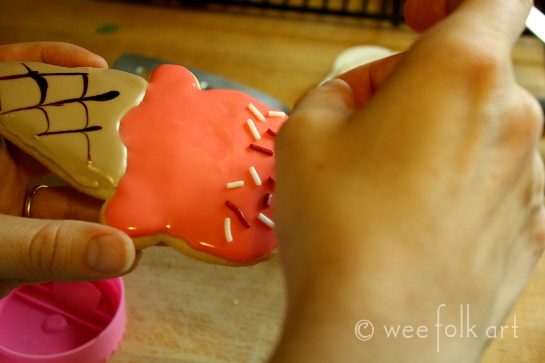 Ready to eat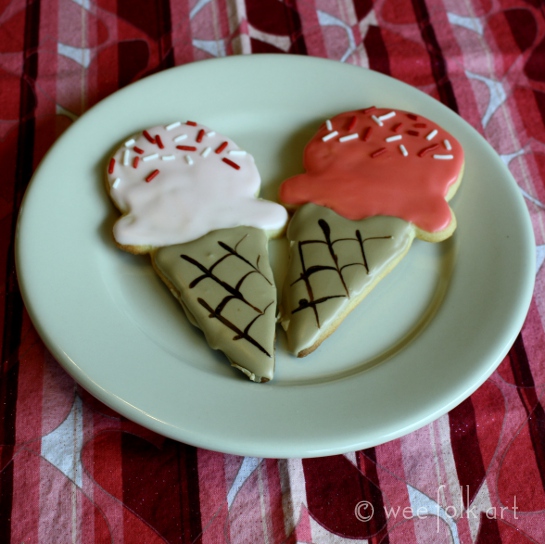 Now it's the wee ones' turn!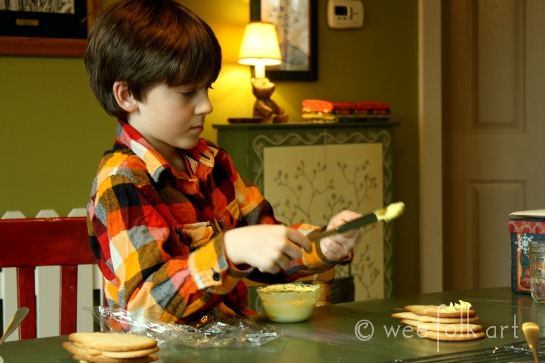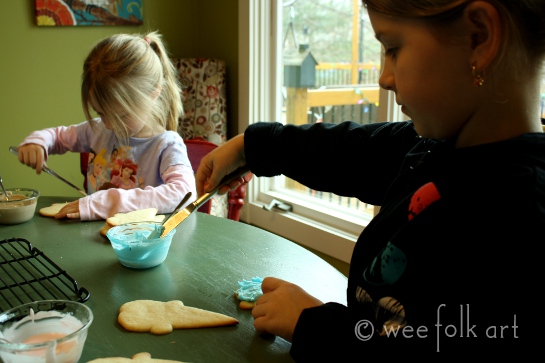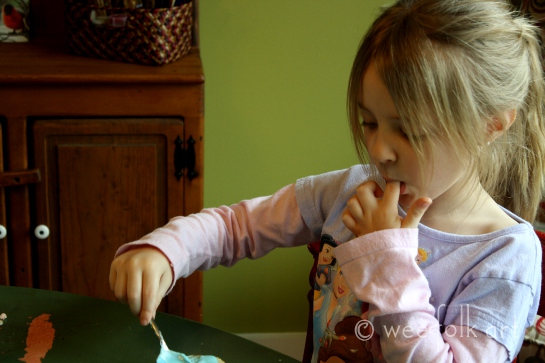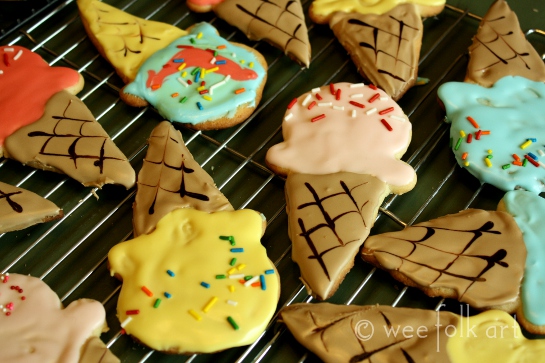 Tasting testing before sharing with friends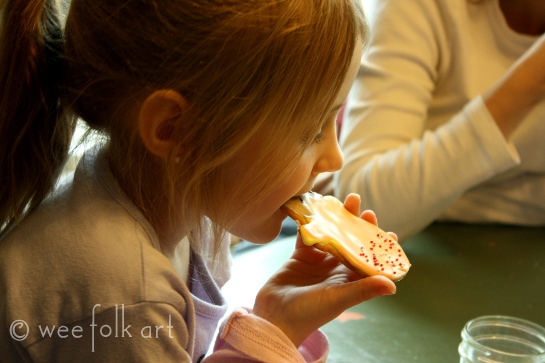 All agreed… good enough to share with friends… as long as they could save a few for the family 🙂