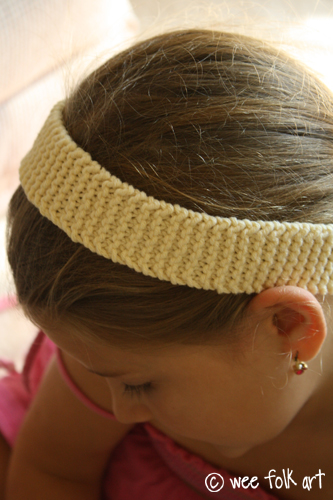 For one of our first projects in my Newbie Knitting class, I wanted something fairly simple, quick to finish and something the girls in my class could wear to show off their new skills. This Easy Headband fit the bill. Add the Easy Headband to your Ravelry Queue.
Materials
Size 8 needles
About 30 yards of worsted weight yarn.
Cast On 7 sts.
Work in garter stitch (which just means knit every row).
To determine the length needed, measure your head.
Subtract 2.5 inches to find the length you need (the garter stitch is very stretchy).
When you reach your length, bind off leaving a 12″ tail.
Use a yarn needle and the tail of yarn to stitch the ends together.
Weave in ends.
Optional: You can add felt flowers, stars, etc and/or beads to add embellishments to your headband. Get creative.