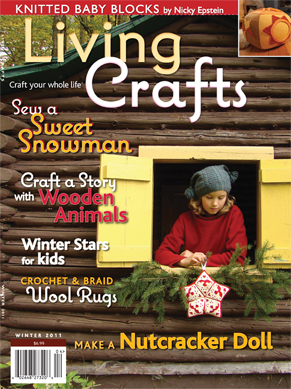 WOW! Judging by how many people entered this give away, it's easy to see that you share our love of Living Crafts Magazine. It is obvious the moment you pick up a copy and start leafing through the pages, that you are a part of something special. Not only does the magazine share amazing crafts, but it is sharing a philosophy. We feel blessed to be associated Living Crafts, and we were delighted to share their generous give away with you! Thanks again to Pardis Amirshahi, editor of Living Crafts, and the entire staff.
The lucky winner, drawn at random was…
Summer on Sat, 12/18/2010 – 16:32.
Oh, do you know how many times I have perused Living Crafts website? I always look through the back issues too, looking for those that I would love to have!
What an incredible giveaway!
Thank you and Merry Christmas
Congratulations, Summer. Just send your snail mail address to weefolkart@yahoo.com and we will send it along to Living Crafts Magazine. Make sure you contact us by December 28 or a new winner will be drawn.
Thanks to everyone that entered, and thank you to Pardis and Living Crafts Magazine for sharing this generous give away with us all!
REMEMBER this offer from Pardis…
Using the Offer Code of W11WEE your readers can enjoy a FREE Winter 2011 issue, IF they purchase a one-year or two-year subscription. They should just type W11WEE in the Offer Code!