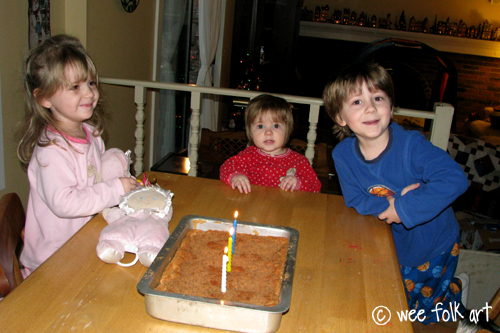 In my kids' minds, you don't get to claim a new age on your birthday until you blow out the candles on your cake. Apparently, it is the actual act of blowing out the candles that makes your birthday official. Bug would not let Fairy call herself six years old this year until the day after her birthday… the day we had her party because she didn't have her cake yet. And she agreed with his assessment. No cake and candles… no birthday.
So where am I going with this? Besides getting to pull out an oh so sweet… were they really that small photo… I am going to share a recipe and a Christmas tradition in our family. Every year we have coffee cake for breakfast on Christmas morning. On one hand it is a simple breakfast I can make a day or two ahead of time and requires no work on my part Christmas morning. But mostly, it serves as a wonderful reminder to the whole family what Christmas is really about. After we check out our stockings, we stop and sing Happy Birthday to baby Jesus. And of course, it is not a birthday with out a cake and candles. It is such a simple way to keep the meaning of Christmas in our hearts on Christmas morning. BTW… Why three candles you might ask? There is one for each kiddo to blow out.
This is a not-too sweet coffee cake that my family enjoys. I started making this about three years ago to have on Christmas morning as a birthday cake for Baby Jesus. I make it 2 days ahead of time, refrigerate and it is still very moist. It's not super sweet and very yummy with coffee.
SOUR CREAM COFFEE CAKE
INGREDIENTS
CAKE:
1 cup butter
2 cups white sugar
2 eggs
1 cup sour cream
1/2 teaspoon vanilla extract
2 cups all-purpose flour
1 teaspoon baking powder
1/8 teaspoon salt
CRUMBLE (all ready doubled – because who doesn't like some extra crumble):
2/3 cup all-purpose flour
1 cup packed brown sugar
4 tablespoons melted butter
2 teaspoon ground cinnamon
DIRECTIONS
Preheat oven to 350 degrees F (175 degrees C). Grease a 9×13 inch baking pan.
In a large bowl, cream together 1 cup butter and white sugar until light and fluffy. Beat in the eggs one at a time, then stir in the sour cream and vanilla. Mix in 2 cups flour, baking powder, and salt.
Prepare the crumble.: In a medium bowl flour, brown sugar, tablespoons melted butter, and cinnamon.
Spread half the batter in the pan. Sprinkle cake batter with 1/2 the crumble. Spread second half of batter over the crumble, and top with remaining crumble. Or actually I just fold in the crumble throughout the batter rather than trying to divid it. The batter is very sticky and it's hard to work this way.
Bake 35 to 40 minutes in the preheated oven, or until a toothpick inserted near the center comes out clean.