Just had to share a truly exciting moment for Bug. We came home from a fantastic Nature Center field trip yesterday afternoon to a giant box on the front porch. As we pulled into the garage I was racking my brain trying to remember what on earth I had ordered. Had something been back ordered that I had forgotten about? I have been know to order and forget before… but I was clueless. When we saw the boy's name on the shipping label I then thought… ahh an early birthday gift (but really too early). So I banned the boy from the room to open the box and inspect. There was no packaging slip, but what I found was Legos. Not surprising… but more than one box, no, more than two… at this point the light bulb clicked on.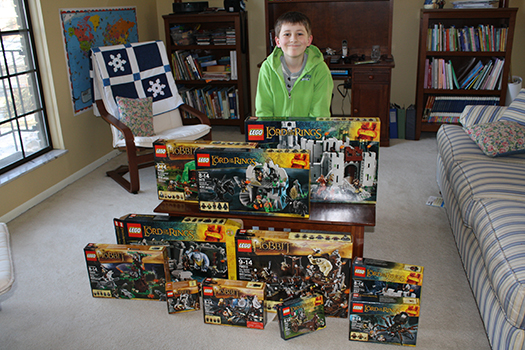 Way back in August Bug had entered an online Lord of the Rings Lego building contest. In September we had received a letter stating that he was a finalist and we had to sign some papers allowing them to publish his photos if he won. And then we never heard anything again. Until at the bottom of the box that included 11 Lego sets was this letter…
"Congratulations! You have been selected as one of the lucky winners of our LEGO THE LORD OF THE RINGS Building Challenge! Your photo submission to the LEGO THE LORD OF THE RINGS Creation Gallery was selected from over 5,000 submissions. We are confident that your creativity and imagination will help inspire other builders all over the world and we appreciate your entry into the competition!"
Ecstatic doesn't even begin to convey Bug's reaction. Oh, the joy of soooo many Legos! Oh how cool to win! School will have to wait today… there are over 6,000 pieces of Legos that must be built.
Here is a glimpse of his entry.