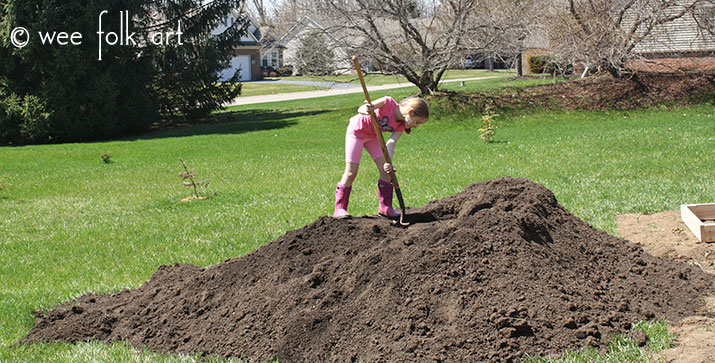 There are some children that you can't keep indoors. These children wake up in the morning and the first thing they do is seek out a large window and play weatherman. "Can I go outside now?", is the mantra you'll hear in lovely or inclement weather. The house is too confining for them. A whole world of discovery awaits them just outside the door.
Then there are the children who resist going outside. By their reaction you would think that raptors lurked behind every bush and their common lament is, "I'm bored, there's nothing to do."
Although we want our children to be independent thinkers and in a perfect world all any child would need is a stick to become a swash buckling pirate, a magical fairy or a master chef with a row of mud pies baking in the sun, some children need a little guidance learning to become independent players.
When a child tells you that she is bored, look around your yard and try to view it as a child would. Ask yourself if there are enough opportunities to stimulate play. If you are fortunate enough to live on the edge of a wood or your yard is rich with nooks and crannies, chance are there are lots of opportunities for imaginative play. If you can't see opportunities that would intrigue you, chances are your child has a point, especially for children that need help being creative.
I have known many parents that have had reluctant outside players that are annoyed because they constructed an expensive play structure in their yards and their children seldom play on it. Although swings and slides are WONDERFUL for large motor development, they do little to stimulate creative play.
So, what to do, what to do? I could write a book, and many people already have, on how to create a yard that encourages curiosity, develops creativity and has a siren's ability to lure your child to it. In general, these are my basic suggestions:
1. Develop "stations" in your yard. Here is a spot for gardening, here is an area for large motor play (which can be nothing more than an open space for kicking a ball), and here is an area for fantasy, where fairies and gnomes may be spotted. I believe in giving names to various areas of our yard. It makes them special and they become a bona fide destination.
2. Have things in your yard that allow for open ended play. A bushel basket full of cut branches and logs that can be used for building. A bucket and a spade. Insect friendly containers and magnifying glasses that can be used for nature study while respecting the sanctity of our backyard friends. A pile of dirt or sand.
3. Change it up. Every year I like to add something new to my yard. It might be a weaving station or slices of a trunk used for stepping stones. You might construct a nature table for collecting and studying items or add pails for water play. Occasionally put away something and switch in something new. Your yard is organic, after all, which means change is natural.
4. Keep it simple… and cheap. Most of the items in my yard are organic and were free. Downed trees and leaf piles can be used in wonderful ways. We created a green belt around 3 sides of our yard, allowing for adventures in wild that suburban yards normally do not afford. (And less for Tim to move!) Create an area where children can dig. Nab some galvanized containers at garage sales and flea markets for container gardening. In other words, you don't need to spend hundreds of dollars buying toys for the backyard. If you let nature give you a helping hand, interesting yards can be created very economically.
5. Keep your yard organic. Daily our children are bombarded with plastic toys and electronic devices. When I look in our yard, everything is natural. (The exception is the pool we put up in the summer.) Help your children to appreciate and respect nature by providing them with a natural experience when they are outside.
6. Finally, join your children outside. Find a shady corner to read a book. Set up a bird feeder and refill it daily, in rain, shine or snow. "Camp out" in the backyard as a family, even if you only stay outside long enough to marvel at the sky. Cook out regularly. Pack a picnic lunch. In other words, enjoy your yard with your children.
The internet is full of wonderful suggestions to create interesting stations in your yard. You may want to start on our Pinterest page:https://www.pinterest.com/weefolkart/ Start by checking out the board named "Back Yard :: Playscapes". Any of my "Back Yard" boards offer many other interesting ideas for your yard.
For those of you that made it to this point, I'm assuming you are interested in creating yards that promote play, imagination and a love of nature. Hope you were able to pull something for your efforts.
Do you have suggestions for making yards more interesting to children, especially the reluctant outside players? Would love to hear your ideas!
~Kimara~