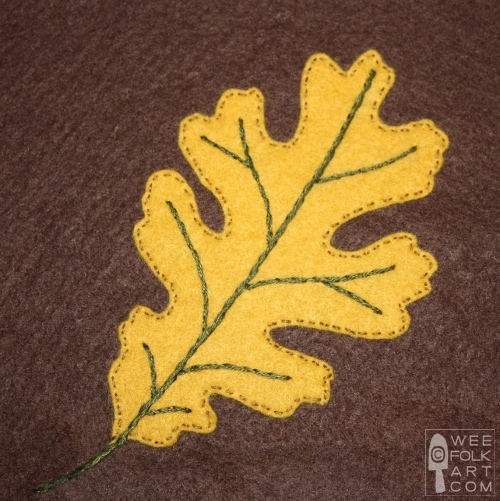 Our pool came down this weekend… along with many leaves. Early for both. In many ways I have thoroughly enjoyed our summer… temps well below the norm, which suits me fine. But I'm afraid this unseasonably cooler summer has wreaked havoc on our gardens. We have never had a less bountiful garden. I hope our regional farmers fared better than we did!
But on a happier note… fall is in the air… and being my very "favoritest" season… I'm giddy with the anticipation of bonfires, hot cider, and leaf piles! Today I'm sharing another leaf. This is our Oak Leaf Applique Block. We have a treed yard, but unfortunately not a single oak tree. I had to wander over our property line to collect leaves off my next door neighbor's lawn so I could trace one. Fortunately, there's plenty of leaves to go around. As always, this pattern was designed for a 6″ x 6″ block, but can be enlarged or reduced to meet your needs. The pattern for the Oaf Leaf Applique Block can be found HERE or in our FREE Applique Patterns. Enjoy!
https://www.weefolkart.com
Copyright © Wee Folk Art 2008 – 2009. All rights reserved.