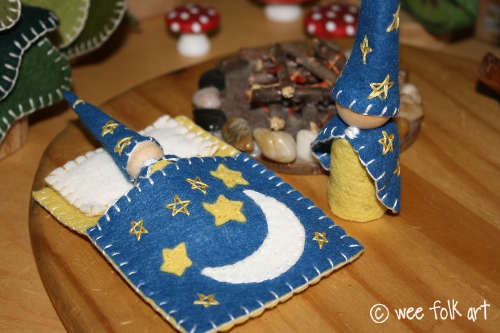 It's summer… time for camping under the moon and stars. Whether you throw a sleeping bag on the grass in the backyard or trek into the wilderness, there is nothing like lying on your back, on a clear night, and looking up at the wondrous night sky.
Naturally, our gnomes also enjoy star gazing. Here are our latest gnomes and there sleeping bag, perfect for a night under a blanket of stars and the moon!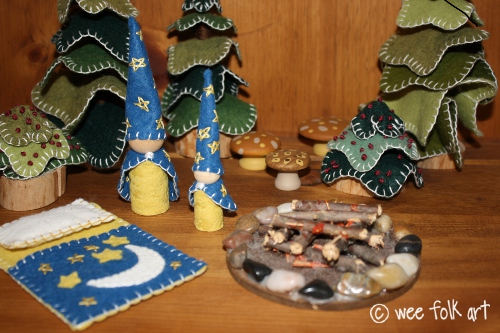 To complete this project, you are going to need to do a little scavenger hunt through our site. You will need:
The Waldorf Inspired Gnomes found HERE.
The basic Sleeping Bag Directions found HERE.
The directions for how to make the woven stars found HERE.
And the actual pattern for THIS sleeping bag found HERE.
And, in the event you want to set up your own campfire scene you will need:
The campfire found HERE.
The felt trees found HERE.
And the mushrooms found HERE.
Okay… I think that is everything 🙂 To embellish your gnomes, simply add some woven stars on their hats and capes before you sew them together. And for all of you that accuse me of flawless crafting… just know I make mistakes ALL the time. I'm just a master of covering them up. For example, when appliqueing the moon and stars on the blanket of the sleeping bag, I appliqued them on sideways by mistake. So, when you look at the pattern, it will look wrong. I meant to do it like the pattern, but after spending the time, I was not going to go back and redo the silly thing. So, I left it. And, if anyone in the future questions the look of the moon, I'll just tell them I was striving to create a lunar eclipse!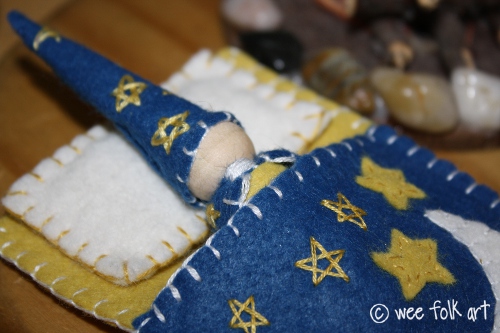 NOTE: On the pattern you will also find an applique to make a sunny sky sleeping bag. I was going to make both and ran out of time. If you would like to make one, and the design on your pattern is too light, I simply took our Sunburst Applique Block and reduced it to 40%.
On a completely different topic… you guys will be on your own for the next 10 days as Michelle's family and mine are vacationing. Although we will have access to computers, we will only be using them to check-up on things from time to time. If you need to talk with us, best way to contact us is through email at weefolkart@yahoo.com. We will be checking emails daily. So, have a wonderful week, and if you are really missing us, great time to thumb through past posts and projects. BTW… if you ever find a mistake, i.e., a broken link or an incorrect photo, please email us with the link and problem. We would really appreciate it. We will see everyone back here on Monday, July 18. We well 🙂
https://www.weefolkart.com
Copyright © Wee Folk Art 2008 – 2011. All rights reserved.
All photos, text and patterns are copyright protected. You may not copy, reproduce or redistribute any material found on WeeFolkArt.com without written permission. Wee Folk Art retains all rights.