I love summer knitting. Although autumn and winter seem like the more prevalent times for knitting and of course include big chunky fabrics, warm woolen accessories, and elicit images of knitting curled up by the fire, the summer can be just as wondrous to the avid knitter. In the summer we can enjoy the silky smooth fibers of silk, bamboo, and linen. We can make drapy, light weight fabrics, adorned with lacy open-work designs. Airy, breezy, beautiful. As a knitter with animal fiber allergies, I spend the winter months searching for replacement yarns, never able to use the yarns suggested by the pattern designer, but in the summer I am free to order exactly the yarn recommend since most are plant fiber based. And since we are trying to cover so much less surface area in the summer, the projects work up quickly.
Right now I'm on the hunt for the perfect tank or two for myself. I've narrowed the potential list down to these lovely designs. So what do you think? Which one (or two) shall I make?
by Mari Chiba
The Chevron Lace Tank is a perfectly lightweight top for warm summer months. Showing off a classic chevron lace patterning along the top, the tank is knit from the bottom up in one piece. The body is worked in the round up to the armholes, and then the front and back are worked separately back and forth.
Available from Knit Picks: $4.99
Recommended Yarn: Knit Picks CotLin DK Yarn 
---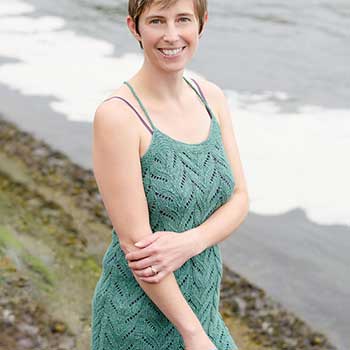 by Andrea Rangel
You'll love this breezy tank for balmy days. The delicate lace pattern is is intuitive and fun to knit, and the top-down seamless construction makes it a quick project. Line it with a tank top, or wear it as a swim suit coverup while lounging in the sun.
You have two versions to choose from: an elegant tunic, and a shorter version with a wide and breezy hem.  Criss-crossed straps give a comfortable, secure fit.
Available from Andreaknits: $7.00
Recommended Yarn: Rowan Panama
---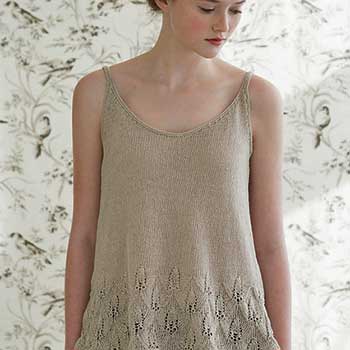 by Pam Allen
Camisole is knitted in pieces from the bottom up. Skirt is shaped by changing needle sizes, then further shaped in the bodice with decreases. Stitches are picked up around neck opening and cast on at shoulders, creating delicate straps. Stitches are then picked up along arm openings and straps.
Available from Quince & Co: $6.00
Recommended Yarn: Quince & Co Sparrow
---
by Mel Ski
Trail is a sleeveless top with sweet accents at the bottom, a lacey textured insert just below the bust line that repeats on the upper back.
It is the second pattern set to release in the 6 Bit: Wander Collection.
Available from With Mel: $16 for the 6 pattern collection
Coming June 15, 2015
Recommended Yarn: Quince & Co Sparrow
---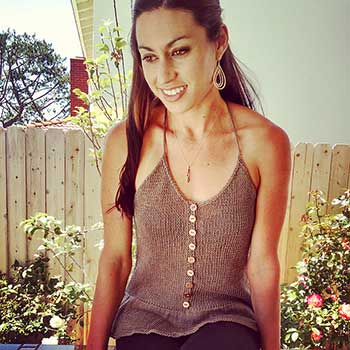 by Klever Knits
Simple linen racerback tank with a sweet flounce at the hem and delicate buttons to close the fronts.
Available on Ravelry: $6.50 (you will need a Ravelry account to view)
Recommended Yarn: Louet Euroflax Sport
---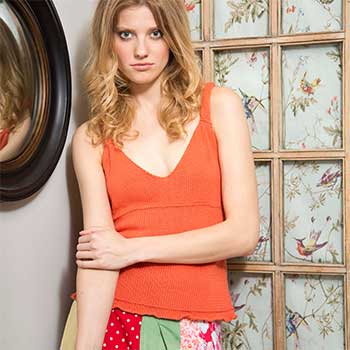 by Lion Brand Yarn
Straps are worked as part of the Back. After sides are seamed, the straps are joined to the Front with a 3-Needle bind off. Straps are worked without an edging, so edges will roll softly.
Available at Lion Brand: FREE (you will need a Lion Brand account to view)
Recommended Yarn: Lion Brand LB Collection Cotton Bamboo
---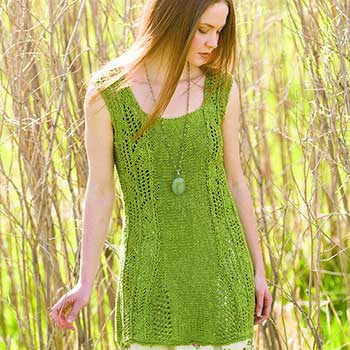 by Kristeen Griffin-Grimes
From the book French Girl Knits-"The marriage of soft organic cotton and bamboo twisted together, one taking dye just a smidge differently from the other, makes a garment with dimensional interest. Throw in a leafy Japanese stitch pattern for the lace panels that sidle from front to back, and result is a non-fussy tunic with femme appeal, very much like Nadine herself."
Available from Amazon French Girl Knits: $17.00 
Recommended Yarn: Be Sweet Bambino
---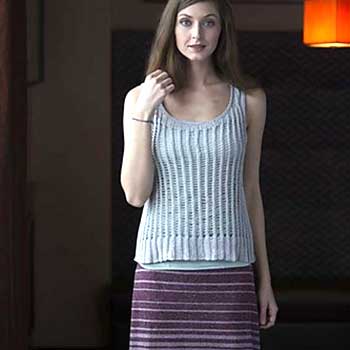 by Nancy Eiseman
This open lace tank will add style to simple tanks and dresses on hot summer days. The bottom is worked in a rib stitch that opens into a ladder lace stitch for the body and then back to the rib around the neck edge with a cable on each of the front shoulder straps.
Available on Ravelry: $5.50 (you will need a Ravelry account to view)
Recommended Yarn: Elsebeth Lavold Hempathy
​
​
---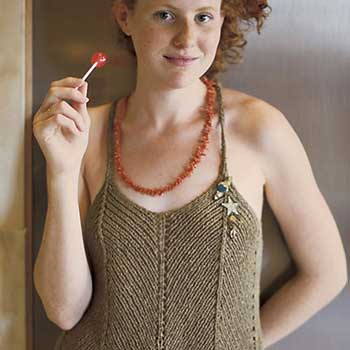 by Therese Chynoweth
Therese Chynoweth uses columns of decreases and increases in a one-by-one rib pattern to create a dramatic chevron design for an otherwise straightforward tank. The back, worked in simple, vertical ribs, follows the natural tendency of ribbed fabric to draw in for a close fit. The body of the tank is worked in the round to the armholes, then the front and back are divided and worked separately (back and forth in rows) to the shoulders. The straps crisscross in the back for a secure fit.
Available at Interweave Knits: $4.50
Recommended Yarn: Berroco Denim Silk
---
by Susan Sheby
This beautiful open knit tank is just the ticket for your spring wardrobe! This swingy tank calls for 4 skeins of our Stargazer Silk yarn. The pattern is one size but because of the open seed stitch and loose silhouette it will fit most body types. The tank straps tie at the shoulder, making them easily adjustable too. The Stargazer yarn adds a little sparkle and embellishment.
Available at Knit Collage: $6.00
Recommended Yarn: Knit Collage Stargazer Silk & Sequin
---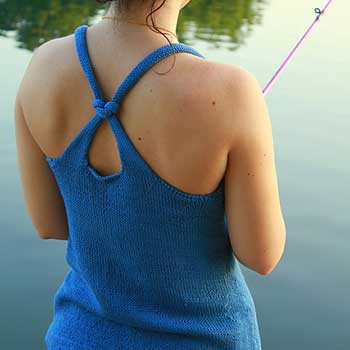 by Sarah Wilson
Simple stockinette stitch in cool cotton gets a twist on plain when you tie the back straps into a reef knot, and an unusual picot hem finishes the piece in style. Worked from the bottom up in one seamless piece, this A-line shape and plunging V-neck are flattering on a wide range of body types! Get creative with the knot and make your tank unique.
Available at Ravelry: $6.00 (you will need a Ravelry account to view)
Recommended Yarn: Rowan RYC Siena
---
by Pam Allen
Sprout, an organic cotton yarn with a pleasing pebbly texture, is on the bulky end of Classic Elite Yarn's Verde line. Pam Allen used this yarn to advantage in her swingy summer top that features a diagonal stitch pattern, deep V-neck, and drawstring detail. Pam worked the body in the round to the armholes, then worked the back and front separately to the shoulders, incorporating the neck and armhole edging along the way. Sew the shoulder seams and you're done!
Book available on Amazon: Knitting Green: Conversations and Planet-Friendly Projects
Recommended Yarn: Classic Elite Yarns Sprout
---
by Claudia Olson
I fell in love with this yarn just by touching it and thought that I must have something slinky against my skin. This is the result!
I only made this in my size. The lace pattern repeat is 10 sts and is approximately 1.5 inches.
Available at Ravelry: FREE (you will need a Ravelry account to view)
Recommended Yarn: Queensland Collection Sugar Rush
---
FYI – We are an Amazon Affiliate.