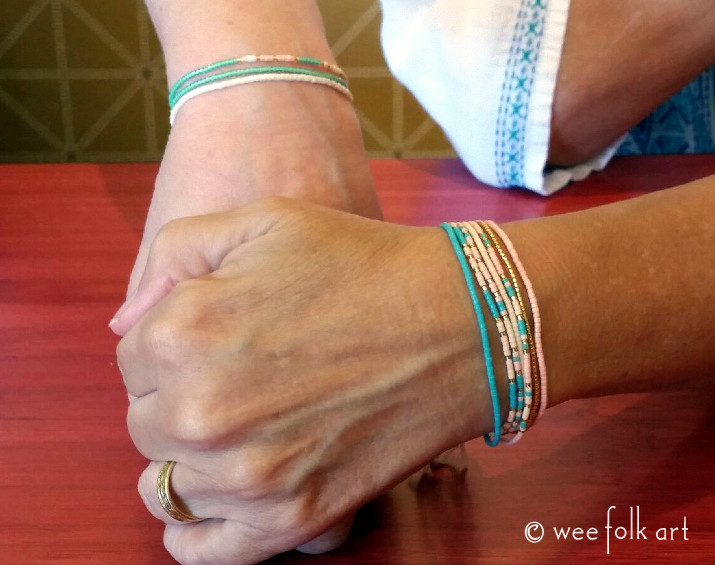 Several weeks ago I was perusing the internet as I am inclined to do, oohing and aahing over this and that, when I happened upon a scathingly brilliant idea! If you don't get The Trouble With Angels reference, let's just say I thought the idea was brilliant! I was over at Honestly WTF when I saw her Morse Code Bracelets.
Anyway, as soon as I saw them I knew I had to make them for a couple of my dearest friends. So, I ordered supplies including an assortment of colors of the perfectly shaped and delicate Miyuki Delica Seed Beads. I got the supplies in a couple of hours before we were leaving for a weekend visit with the grandbabies. Very few things could actually have separated me from those beads, and I had to wait until I returned home to start on this project.
Almost as soon as I got home, I set to work… or actually… I set to play! First, I thought about what secret messages I wanted to work into the bracelets. I can't tell you what messages I shared with each of them… it's a secret 🙂 Then, using a Morse Code Translator, I converted my messages to Morse Code. I then strung beads on the floss, creating my personal and mushy messages that only the decoder could read! Did I mention I love my friends?
I made 3 bracelets for each of them with my messages following the tutorial on Honestly WTF. The only thing I did differently was instead of using a round bead as a slider to tighten the bracelets, I found if I lightly squeezed 1 of the crimp beads, it would slide up and down, securing the bracelet. Also, I only made 3 bracelets with messages. I made 4 more using sold colors. They wound up looking absolutely beautiful!
This really should be a secret, but I figure if I mention it now it might be forgotten before Christmas, but I plan to make sets of these for just about everyone I know for holiday gifts!
Finally, using the Morse Code Decoder I found on Wiki, I made wrapping paper out of the Morse Code table by duplicating the table several times and printing it a regular piece of printer paper. I wrapped each set of bracelets in small jewelry boxes and tied them with pieces of embroidery floss that matched their bead colors. Both of my friends thought the wrapping paper was so clever but did not get the significance at first. They opened their boxes, admiring the bracelets within. Linda put on all 7 of her bracelets and Colette was admiring 3 on her wrist when I snapped a picture. When they were through modeling the bracelets, I pulled out another copy of the Morse Code Decoder and told them the beads actually had messages for them in Morse Code. They loved them even more.
If you'd like to make Morse Code Bracelets, check out Honestly WTF's tutorial, then get to work. Below are links to the supplies I bought. Hope you decide to give this a try. It was so much fun and they turned out lovely!
---
Materials Needed:
---
---
FYI: Wee Folk Art is an affiliate of Amazon