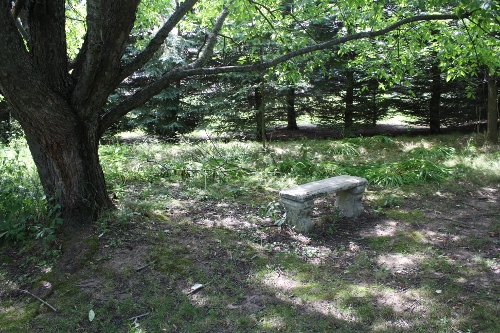 It's summer. Ever since I was a child summer equalled excessive reading! My tastes in reading ran the gamut of literary genres, BUT the one commonality amongst all my summer books I read was my ability to chose them for myself. These were not books selected by my teachers, although I often read books that would have pleased them, nor did they need to be books off anyone's reading list. The freedom was exhilarating! As an adult I can now chose any book I want to read at anytime, HOWEVER, there is something so sweet and self indulgent about a summer read. We take books to the beach, on vacation, and out to the hammock under the trees. I have many nooks and crannies where I can be found reading on a summer's afternoon. As a parent I enjoyed sharing summer reading with my children, and now, as a Gammy, with my grandbabies.
The picture above is a special area in our green belt at the back of our property. We refer to this area as our Serenity Garden, for obvious reasons. Although the bench is cement and does not have back support, it is still a wonderful spot to read for a while, especially if reading short stories or poetry.
And although summer reading is indulgent and fun, having a special bookmark accompany you on your literary journey just makes it that much more enjoyable! Today I'm sharing a pattern for a sweet little mouse bookmark, donning a very long and useful tail. This bookmark could easily be made by even young children if you glued it together instead of sewing it together and you could use paper instead of felt. Directions and patterns for the Mouse Bookmark can be found HERE or in our FREE Pattern Section. Enjoy!
BTW… Do you have a favorite animal you would like a bookmark pattern for? If so, leave a comment and we'll pick at least one other animal to turn into a bookmark!