For a totally unique and fun business card holder, make our Mushroom! The mushroom cap is on the top flap and the stem remains on the lower portion. The finished size is approximately 2 3/4″ x 3 3/4″ and will hold standard sized business cards. Make one for yourself and several for gift giving.
Materials:
wool felt
embroidery floss
small piece of sew on Velcro
pattern
IMPORTANT: Refer to the pattern throughout. Specifics, including the number of floss threads to be used, stitches and order of applying appliques can be found on the pattern. Read it carefully before beginning.
1] Make copy of pattern.
2] Cut out pieces of felt as indicated on pattern.
3] Following the pattern, applique and embroider the front piece of the card holder.


4] Cut Velcro using pattern piece. Sew one piece of Velcro to the outside piece (on the stem) of the card holder as indicated on the pattern. Sew the corresponding piece of Velcro to the inside piece of the card holder as indicated on the pattern.


5] Pin the wrong sides of the 2 card holder pieces together. Begin by blanket stitching along the short, straight side. Tie off to secure but do not cut the thread.


6] Fold the card holder along the fold line that is near the stem. Fold so the stem is showing. Pin in place. Blanket stitch down the side where the thread is attached. Tie off, hide the thread in a seam and cut the thread. Blanket stitch around the remain outside edge of the card holder. Tie off, hide the thread in a seam and cut the thread.


7] Hiding your ends, sew a blanket stitch along the upper fold line.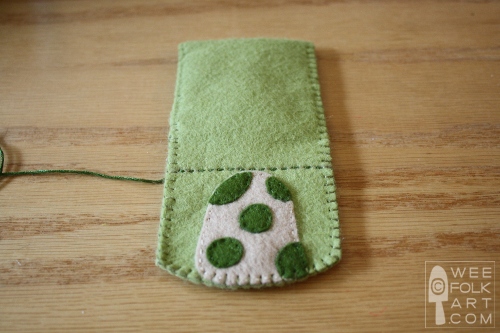 You are now ready to stuff your Mushroom Business Card Holder with, well, business cards!
Note about patterns: We are sharing patterns we have designed and made for our own children, families and friends. Every effort is made to share information in a clear and accurate manner. We offer preemptive apologies for any mistakes that may be made. Please let us know via comments or emails if you stumble upon a mistake or if you encounter directions that leave you scratching your head! We will rectify the situation as soon as humanly possible!
https://www.weefolkart.com
Copyright © Wee Folk Art 2008 – 2009. All rights reserved.
All photos, text and patterns are copyright protected. You may not copy, reproduce or redistribute any material found on WeeFolkArt.com without written permission. Wee Folk Art retains all rights.