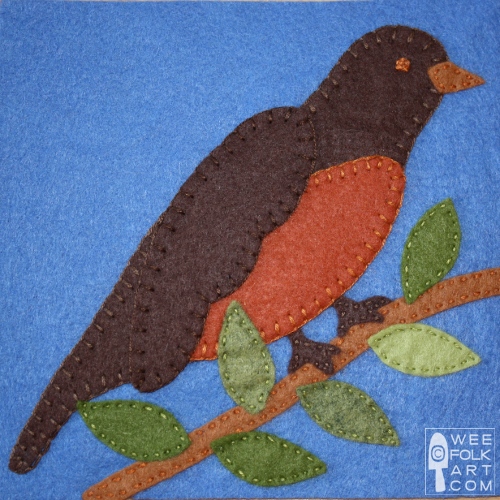 Is there anything more exciting and rejuvenating than the smell of spring? On sunny days, as the snow begins to melt, and day time temperatures soar to a whopping 45 degrees F, my head begins to spin with prospects of flowers and picnics. Here in the Midwest, a sure sign of spring is the tapping of the maple trees and the return of the robins.
The other day Pixie and Fairy snuggled close as we watched Michelle at the stove, mixing the boiling hot maple syrup, that would become maple candy. The smell in the kitchen was heavenly. While waiting, because it took ever so long for the syrup to reach the right temperature, I read the book, Grandpa's Sugar Bush, to the girls.
As I turned a page, I saw this:
"Grandpa says the first robin always sings on the day the sap starts to run."
Well, when everyone departed after dinner, I sat at my desk, and designed a Robin Applique Block. It only seemed right. Robins and maple syrup! As always, the robin was designed to fit on a 6″ x 6″ block but can be reduced or enlarged to meet your needs. The Robin Applique Block can be found HERE or with our FREE Appliques. Enjoy!