Recently I started replacing my old, dearly loved, but showing their age play silks with new ones. (I'm mulling some ideas around on how to repurpose them!) I wanted a way of storing the silks that was accessible to the wee ones but added to my home's decor. (I am working on a blog "Hidden in Plain Site" for lots of suggestions on how to aesthetically incorporate your children's toys into your home.)
Then, the perfect solution came to me… the banister on our staircase. After play they can be hung up and stay wrinkle free. When the children want to play with them (which is as soon as they walk in the house) they simply have to pull on an end, and down comes the silk. Easy Peasy!
Right now I have bright, rainbow colored silks displayed. Come fall, I'll switch them out for the deeper tones. The only problem is, when I hung them up, I didn't like the contrast with my Falling Leaves Wall Hanging, which definitely has a fall feel to it. So, down comes the Fall Leaves Wall Hanging, which I'll put away for a few months, and up goes… well, I don't have anything in particular that I want to switch it out with.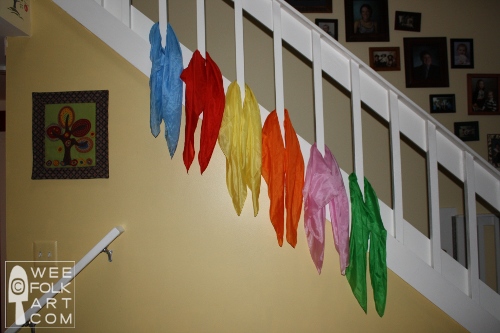 I was thinking about doing a wool roving picture, then, I was at iHanna's Blog this morning, and saw her tutorial on How To Make Paper Cloth. I feel in love!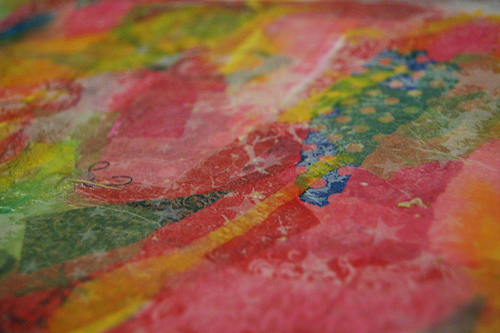 What a perfect way to add color to that little space on my wall, and I'll learn a new technique. If you have never been to iHanna's Blog, you are in for a treat. Make sure you grab a cup of your favorite brew, and give yourself plenty of time to nose around… she's very inspiring! I hope to get some time to work on this this week. I'll keep you posted!