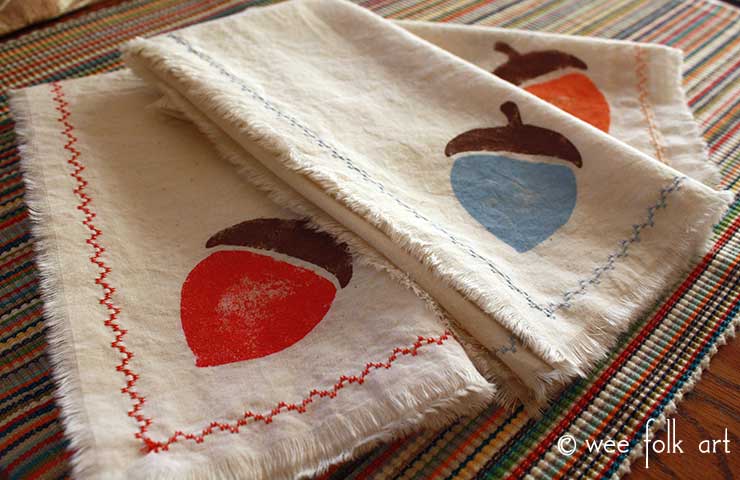 For Thanksgiving this year, I am decorating the table with an acorn theme, complete with a cheeky squirrel. I made these simple muslin napkin following our basic rip and tear napkin tutorial and then embellished them with a decorative stitch and an acorn stencil design.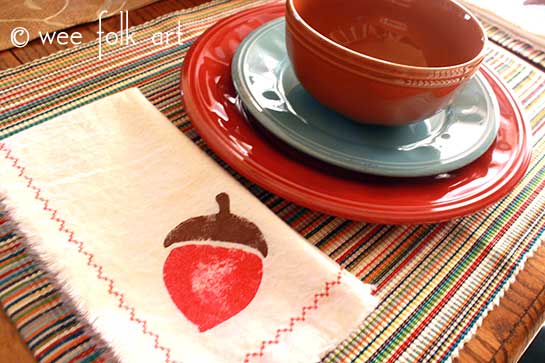 Materials:
1/2 yd muslin fabric for every 2 napkins
fabric or craft paint (tan for acorn cap plus assorted colors)
stencil brushes (flat foam ones work well)
thread to match paint color
craft knife and cutting board
tape
scissors
Directions:
Prepare your napkin base.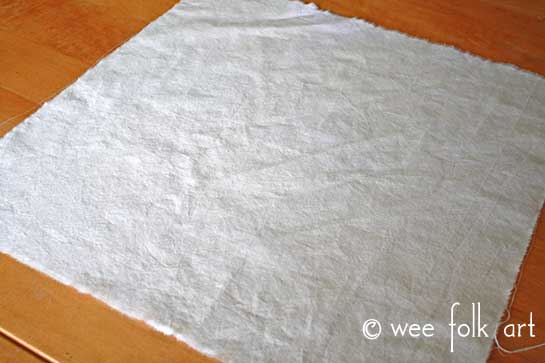 Pre-wash your fabric for better painting results.
Follow the directions for the basic rip and tear napkins to create your base napkin then iron the napkins flat.
Prepare your stencil.
Trace the design onto you stencil sheet.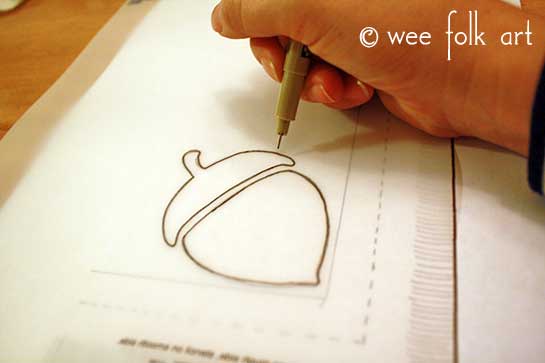 Use a craft knife to cut out the  design.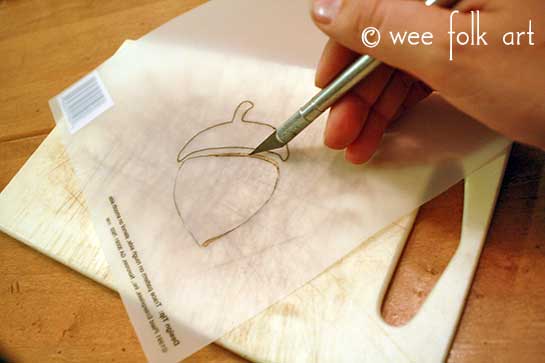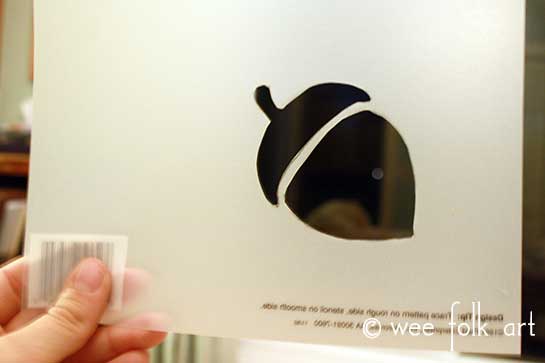 Embellish your napkins.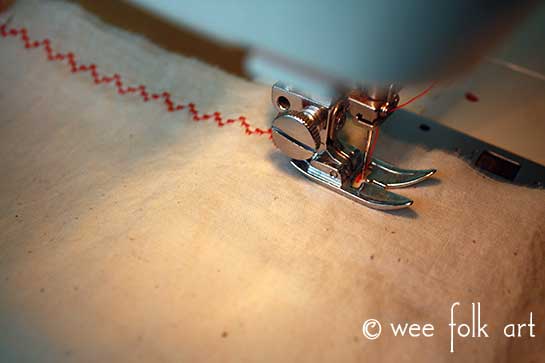 Use a contrasting thread to add a decorative stitch around the edge of your napkin, approximately 1/2″ in from the edge. If your sewing machine does not have fancy stitches, you can use a simple zig-zag stitch instead. Alternatively, you can hand embroider a decorative stitch or even just a running stitch as a border.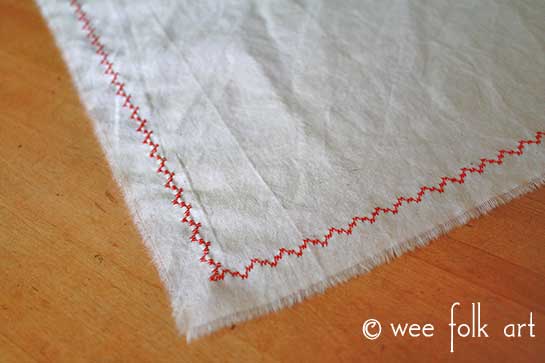 Place tape over the acorn cap portion of the stencil. Be careful not to cover any of the nut portion. You may need to trim your tape.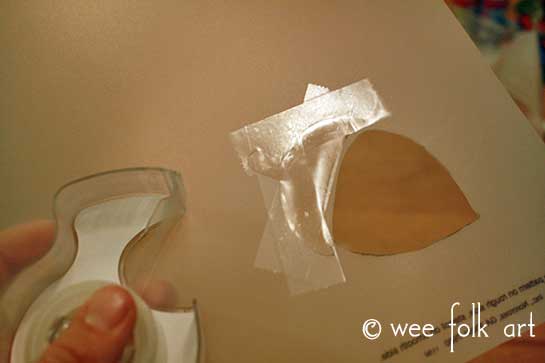 Cover your work surface, in case of bleed through. Line up your acorn in the corner of your napkin.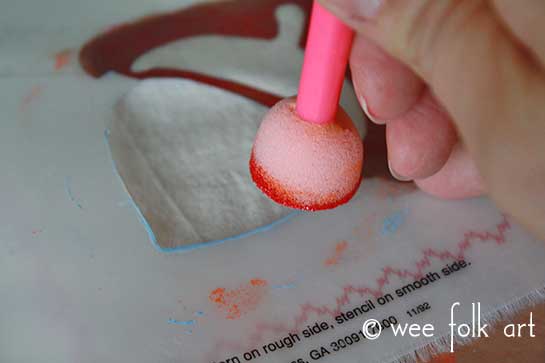 Use your flat foam brush to apply paint to the acorn nut. Be sure hold the stencil steady and use a straight up and down motion. Do not use too much paint at once or it might bleed under the edges of your stencil.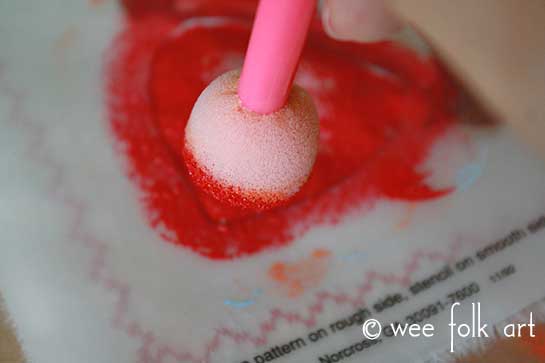 You can completely fill the stencil area with paint or I prefer to let the center of my stencil be a little bare. I like the more rustic look it creates.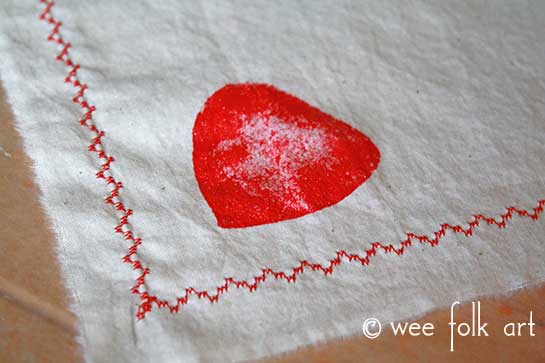 Do all four corners and then set it aside to dry completely. When the first layer is dry, remove the tape from your stencil. Apply tape to the acorn nut portion of the stencil. Carefully line up the stencil and follow the same process for painting the acorn caps. Set aside to dry.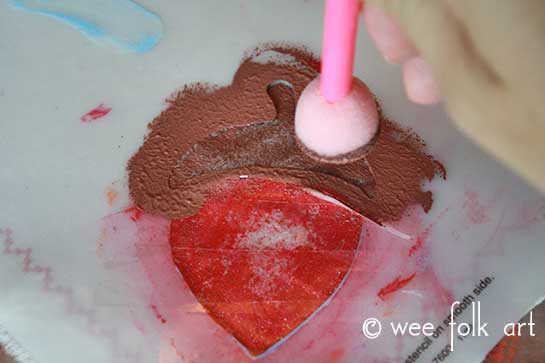 If you have not already removed the edge threads to create your fringe, do so now.
Set your table with your new acorn napkins.