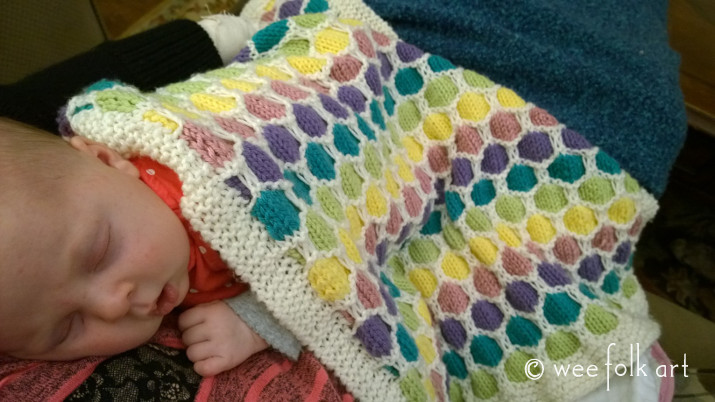 When Adam and Raewyn found out they were expecting their wee one, Raewyn asked me to make them a crib blanket, which I happily agreed to. This is the blanket I made.
Of course, I didn't stop there. After all, a babe also needs a soft afghan to be tucked around them when they are in a stroller or sleeping contently on someone's should. So, I knit Peanut this colorful Rainbow Stroller Blankie:
Within 2 days of Peanut being born, I got a call from Adam. "We love the rainbow blanket so much. It is the perfect size. How hard would it be to make another one just like it?"
I ask you… when your son asks you to knit something for his newborn baby, can any mom say, "No". Well, I couldn't. I got right on it… took me a little longer than I wanted it to, but Peanut received it in the mail last week and now she can flip back and forth between her primary rainbow blankie and her new soft, sweet pastel blankie.
Whenever I knit something, I always put together a REPAIR KIT which includes extra yarn and a yarn label which includes fiber content and washing instructions.
I would say, Peanut likes her new blankie just fine!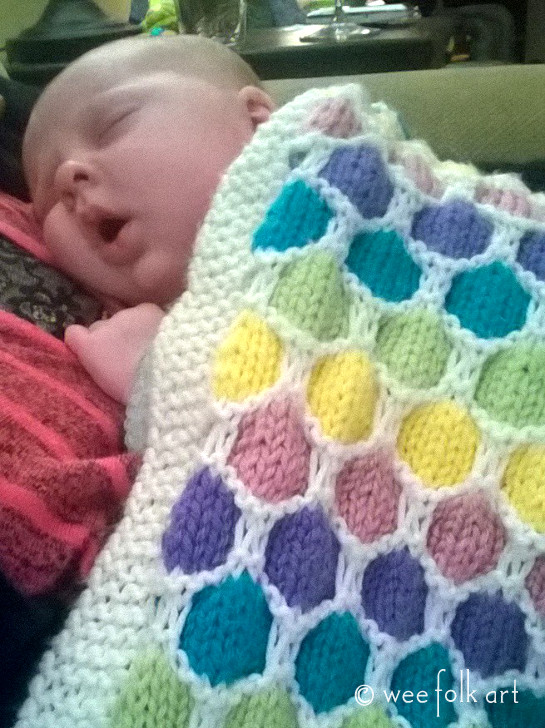 The free pattern I used can be found HERE.