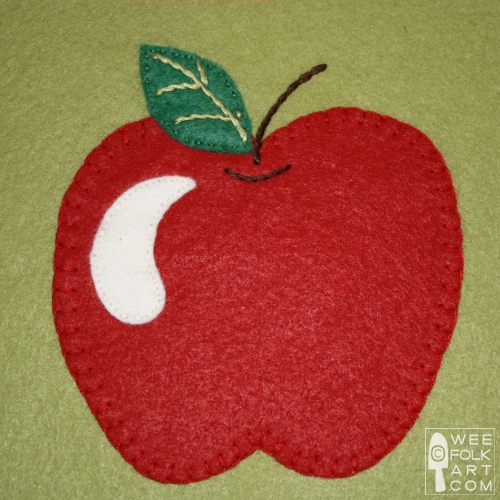 I was going to start this post talking about how much I love fall, but I've already said that… many times. Instead, I'm just going to introduce our Apple Applique Block, tell you I made it to fit a 6″ x 6″ block, and remind you that you can enlarge or reduce the pattern to meet your needs. As usual, I'll tell you that you can find the pattern for the Apple Applique Block HERE or in our FREE Applique Patterns. I will also give my ubiquitous "Enjoy"!
Having fulfilled the status quo… I'm going to share our family's "mostest" favorite recipe for using apples… Apple Crisp. This recipe originally came from an early 70s Betty Crocker cookbook, but since my family LOVES the crispy top, over time I wound up doubling and even tripling the top. So, here is the double topping version of our Apple Crisp. We usually serve it with a scoop of Vanilla Ice Cream, and a shot of whipped cream. Enjoy!
APPLE CRISP
4 cups pared tart apples (about 4 medium)
1 1/2 cup brown sugar (packed)
1 cup Gold Medal Flour
1 cup oats
1 1/2 teaspoons cinnamon
1 teaspoon nutmeg
2/3 cup butter, softened
DIRECTIONS
Heat over to 375. Grease square pan, 8x8x2 inches. Place apples slices in pan. Mix remaining ingredients thoroughly. Sprinkle over apples.
Bake 30 minutes for until apples are tender and topping is golden brown. Serve warm with ice cream and/or whipped cream. It is also delicious plain.