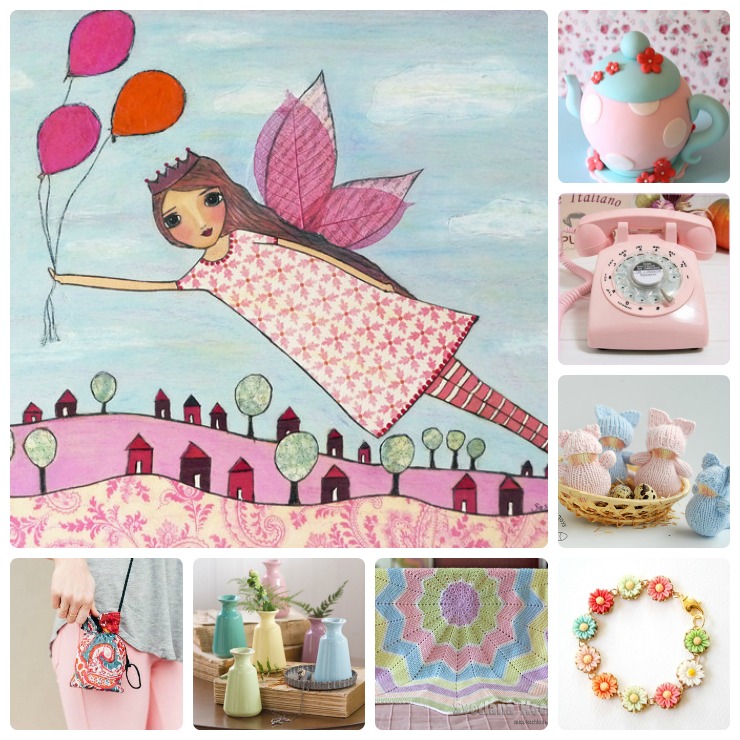 Sometimes I find myself pinning items just because I am drawn to the colors of the image. Ok… I find myself doing that a lot! So I thought it would be fun to create several color collages, with no particular theme other than that the images look pretty together. I am calling today's color collage PINK ICING which features images with light pinks and other pastels.
Do you know of a product or project that would look lovely in this collection? Link to your favorite PINK ICING images in the comments. We would love to have our readers add to the collage. 🙂
---
This whimsical fairy print was the jumping off point for today's color collage: Pink Icing.
I have bought a couple of prints from Sascalia in the past and love her fanciful images. This sweet flying fairy is sporting our themed color Pink Icing.
Fairytale Painting, Pink Fairy Art Print for Nursery Decor and Little Girls Room Decor is
Available on ETSY from Sascalia
---
I can just imagine the tea party, with pink polka-dot dresses and white lace gloves that would be made even more magical with this teapot cake topper. If a white rabbit happened to stop by, he would be most welcomed.
Available on ETSY from CakebyAngela for $65
---
Growing up, my mom had an antique, wood box, rotary phone on the kitchen wall. Although the cord was only 18 inches long and it took you 3 minutes to dial a number, or more if you made a mistake and had to start all over, we loved that phone. All of our of our friends had to give it a try when they came over.
Glodeals 1960's Style Pink Retro Old Fashioned Rotary Dial Telephone
Available on Amazon from Glodeals
---