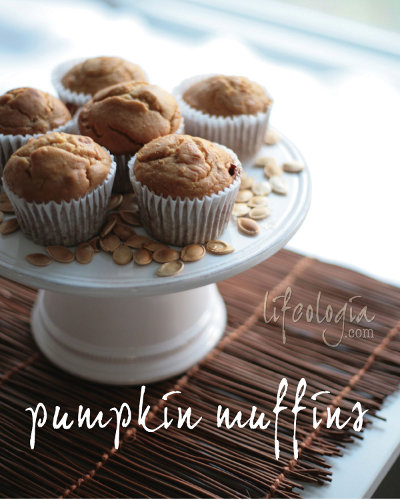 Here are a couple of totally yummy sounding recipes, with the added benefit of having gluten free, vegan options. They were shared by Ella, at the lovely blog Lifeologia. She offered two different recipes, and when I had a hard time deciding which to share, I opted for both! I am especially fascinated with the pumpkin pancakes… which combines 2 of my favorite things! Make sure you saunter over to Ella's blog, Lifeologia. You'll want to give yourself some time because there is an abundance of eye candy! Thanks for sharing, Ella!
Hi Kimara,
I would love for you to feature my pumpkin muffins or pumpkin pancakes –
or both 😉
We had an uncarved pumpkin for Halloween so I thought it would be good to
make some puree from it. Then we ended up with so much puree I didn't know
what to do with it. We made Pumpkin muffins because my daughter loves all kinds of muffins and also we made pumpkin pancakes for breakfast with Orange Pumpkin jam.
PUMPKIN MUFFINS: (gluten free, vegan)
Preheat oven to 350 degrees F. Line a 12-muffin tin with paper cupcake liners.
In a large mixing bowl, whisk together:
1 cup rice flour
1/3 cup organic coconut flour
1/2 cup quinoa flour
1/2 cup tapioca starch
1 1/2 teaspoons baking powder
1 teaspoon baking soda
1/2 teaspoon sea salt
1 teaspoon xanthan gum
1 teaspoon ground cinnamon
1 teaspoon ground ginger
1/2 teaspoon nutmeg
Add in:
1 and 1/3 cups packed organic light brown sugar
1 cup pumpkin puree (canned organic pumpkin is fine)
1/3 cup light olive oil
2 free range organic eggs, beaten, or Ener-G Egg Replacer whisked with 1/4cup warm water  for vegan
1 tablespoon bourbon vanilla extract
1/4 teaspoon lemon juice
Now add in:
1/2 cup vanilla almond milk or coconut milk
Beat the batter to incorporate the ingredients. If it needs a little more
liquid, add up to 1/4 cup almond or coconut milk until it is a smooth
consistency.
Stir in by hand:
1/4 cup each roughly chopped almonds and dried cranberries
Spoon the batter into twelve muffin cups, filling them close to the top.
Smooth the tops using the back side of a wet teaspoon.
PUMPKIN PANCAKES (with gluten free, vegan options)
In a blender or mixing bowl, whisk together the dry ingredients:
1/2 cup rice flour,
1/4 cup coconut flour,
1/4 cup quinoa flour,
1/4 cup tapioca starch/flour,
1/2 teaspoon fine sea salt,
2 teaspoons baking powder,
1/2 teaspoon xanthan gum (or 2 cups all purpose flour)
spices: 1/2 teaspoon cinnamon, 1/2 teaspoon ground ginger, 1/4 teaspoon
nutmeg
Add in:
1/3 cup pumpkin puree (canned pumpkin is fine), 2 tablespoons light olive
oil, 2 tablespoons agave nectar
1 free-range organic egg (or 1 tsp egg replacer mixed with 2 tbsp of warm
water)
1 cup almond milk, more if needed
Spoon onto hot griddle or cast iron pan and cook 2 min on one side, flip
and cook 1 min. on other side. Serve with home-made Orange Pumpkin Jam.
Thank you in advance for featuring me 😉
xoxo
Ella