The other day I saw the most adorable wee stockings at Little Cotton Rabbits. If you've never been to Little Cotton Rabbits, you are in for a real treat. Julie Williams is a gifted designer and knitter. She makes the most a.dor.able little creatures that she sells. The demand for her work far exceeds her ability to keep up, so periodically, she announces that she has a new gaggle of lovelies to sell, and you can place a comment, hoping that her random drawings will give you the privilege to purchase one of her creations. When you look around here blog, you will understand why her work is so highly sought after!  To learn more about Little Cotton Rabbits, visit her SHOP and her BLOG.
Now, onto my Gnome Christmas Stockings. I saw no reason to reinvent the wheel, and decide to use the pattern for Mini Christmas Stockings Julie graciously shared. The pattern is available HERE. These are the only changes I made:
I used a single ply yarn instead of a worsted yarn. I had some beautiful Mini Mochi Rainbow yarn (it is Crystal Palace – Mini Mochi, #101 – Intense Rainbow) that I had left over from a pair of Rainbow Mittens I knit last year.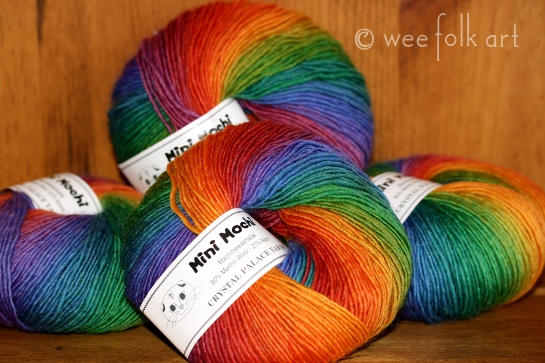 Then, I used size 1US (2.25mm) dpn needles, instead of the size 2US (2.75mm) called for in the pattern.  Finally, instead of adding a pattern to the stockings (Fairisle, zig-zag or trees are available), I simple continued the stockinette stitch through the patterned section, and let Mini Mochi's natural striping do the work for me!
And, there you have it!
Although Mini Mochi is a washable wool, using warm water, dish soap, agitation, and a tumble through the dryer, I was able to felt the stockings to make them even smaller. The only thing left to do was to add a loop for hanging the stockings.
I really wish to thank Julie Williams for sharing this adorable pattern. Because she knits the stockings flat instead of in the round, even beginners should be able to work this pattern, although using the small needles can be a little more awkward.
You have a little over 1 week to until the gnomes will need stockings. Collect up some scrap yarn, and get knitting 🙂