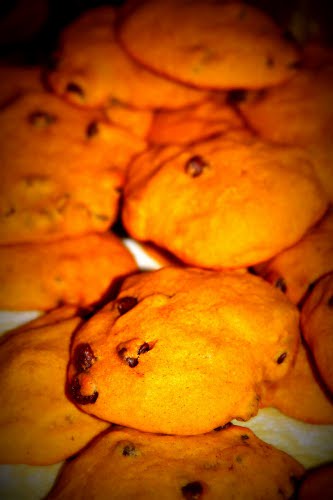 When I received this recipe, I thought, okay, I'm in heaven now. Pumpkin and chocolate chips! These sound so wonderful I can't wait to try them. But what really got to me, was Hallie's account of the first time she tried them. How many wonderful memories have food, family and friends intertwined? Moments that nurious the body and the soul! I would like to thank Hallie, from Our Broken Road, for sharing this recipe with us. Make sure you head over to Our Broken Road and pay Hallie a visit!
I would love for you to include my recipe for cookies in your pumpkin listing!
This particular recipe came from a dear friend of mine in Texas. We were at a pumpkin patch for the day, with our homeschool group and she brought a big container of cookies to share! I just remember how warm the day felt with friends and good memories and of course those wonderful cookies!
I just made these cookies for the first time a few days ago, and shared it on my blog! http://ourbrokenroad.blogspot.com/2010/10/demise-of-pumpkin.html
Thanks for sharing your pumpkin roll recipe. That will be on my list to try! I look forward to seeing what other recipes you post! 🙂
Hallie
Chocolate Chip Pumpkin Cookies
2 1/2 C flour
1 t baking powder
1/2 t baking soda
1 1/2 t pumpkin pie spice
1 c butter
1 c sugar
2 eggs
1 16 oz. can 100% pure pumpkin
1 t vanilla
1 c chopped walnuts (I left these out-not much of a nut in cookies fan)
1 12 oz. bag semisweet chocolate chips
Directions:1. Preheat oven to 375.
Grease 2 cookie sheets.
Mix flour, powder, soda, and pumpkin pie spice in a bowl
Beat butter and sugar together in another bowl until light and fluffy. Beat in the eggs one at a time until smooth and well blended. Mix in the pumpkin and vanilla until smooth. Gradually add the flour mixture, stirring to make a smooth batter. Stir in nuts (if desired) and chocolate chips.
Drop by T sized spoonfulls onto prepared sheets.
Bake in preheated oven until edges are golden, 18-20 minutes. Cool briefly on sheets and then transfer to wire racks to cool completely.